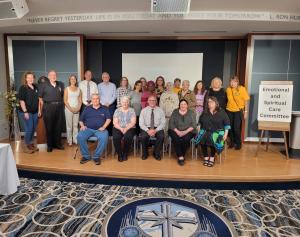 Attendees of the first Utah State VOAD Emotional and Spiritual Care Committee
Sharing spiritual care tools at a conference
Tools for use at disaster sites and in daily life
Churches of Scientology Disaster Response (CSDR) shares the importance of spiritual care for disaster survivors at Utah State conference
Working in collaboration with other faiths we will continue to bring a ministry of spiritual presence to all those in need."
— Rev. Susan Taylor, Churches of Scientology Disaster Response
WASHINGTON, DC, USA, August 30, 2023/EINPresswire.com/ — While disaster relief organizations continue to respond to incidents wreaking havoc around the country in Hawaii, California, and Florida, the National Voluntary Organizations Active in Disaster's (NVOAD) Emotional and Spiritual Care Committee is leading the way in concert with other international and national organizations in emphasizing the importance of emotional and spiritual care for survivors.
In step with international and national studies, the National VOAD (www.nvoad.org) established in 2006 a vibrant and dedicated national Emotional and Spiritual Care Committee (ESCC). The Committee over the years published the booklet called "Light Our Way – A Guide for Spiritual Care in Times of Disaster for Disaster Response Volunteers, First Responders and Disaster Planners." The group continues to emphasize the importance of emotional and spiritual care for disaster survivors.
The National VOAD's Emotional and Spiritual Care Committee supports and collaborates with those states and territories that have established their own Emotional and Spiritual Care Committees.
Last week, hosted by the Salt Lake City Church of Scientology, the Utah State VOAD held its first Emotional and Spiritual Care Committee meeting with representatives from many faiths, governments and NGOs. Kevin Broderick from the Church of Jesus Christ of Latter-day Saints gave an overview of his area of expertise – emotional care.
Rev. Susan Taylor, National Director of the Churches of Scientology Disaster Response (CSDR) from Washington, DC, gave an overview of spiritual care quoting from NVOAD's Light Our Way publication passages detailing the importance of spiritual care:
"Spirituality is an essential part of humanity. Disaster disrupts people's spiritual lives significantly. Nurturing people's spiritual needs contributes to holistic healing. Everyone can benefit from spiritual care in times of disaster.
"Spirituality is the essence of life—the beliefs and values that give meaning to existence and that which is held sacred. It is one's understanding of self, God, others, the universe, and the resulting relationships."
Rev. Taylor, in addressing the group, continued quoting the booklet saying, "Faced with any loss, but especially sudden and profound loss such as in disaster, one's sense of meaning and purpose—indeed everything one may have thought about how the world works—is turned upside down. This sense of disruption can pervade an entire community.
"A disaster affects the entire fabric of community that existed prior to the event and can cause traumatic stress among the whole community. Disaster recovery is in large part the rebuilding of community, the re-tying of the thousands of strands of relationship in the fabric of our being together that have been severed by the disaster.
"Emotional and spiritual care includes anything that assists an individual, family or community in drawing upon their own spiritual perspective as a source of strength, hope and healing. In disaster, anything that nurtures the human spirit in coping with the crisis is spiritual care."
Following the release of Light Our Way, the National ESCC embarked on an additional journey to outline more clearly how people of all faiths or none help those following horrific disasters. A document called the Spiritual Care Points of Consensus was written and released in 2009. Following this succinct document a longer more in-depth document called Spiritual Care Guidelines was drafted and released a few years later. The guidelines include respecting the religious or spiritual beliefs of the individual being helped and not preaching or "correcting" any beliefs. Using these documents all those working with survivors give spiritual care to help not only those in their own communities but those of other faiths and communities as a whole.
Rev. Joava Good, Deputy National Director of the CSDR and former President of the Utah State VOAD, tells a powerful story of her response team helping a hurricane-ravaged family. "An elderly man, whose life was devastated – his wife had cancer, his home was flooded two stories high and his family had lost almost everything — told the CSDR team while holding hands in prayer in his flooded front yard, that he had been considering committing suicide the night before. He was at his wits end. He said he prayed hard for 'sunshine.' The next day the CSDR volunteers arrived in their signature yellow disaster shirts and proceeded to help him with all the things he needed. The elderly man with tears in his eyes said, 'When I saw you in your yellow shirts coming to help me this morning – sunshine had arrived and suicide was no longer a thought.' Days later, the team concluded their disaster clean up and helped to restore the family's resilience."
"This," Rev. Good said, "was spiritual care at work – a ministry of presence, compassion, and care, and we were proud to have helped to save this man's life."
Rev. Good continued, "I am excited to be working with our new Emotional and Spiritual Care Committee in Utah. When disasters strike, we will work hand in hand with partners focusing on sheltering, feeding, debris removal, and flood recovery to bring about a holistic solution to those in need."
Rev. Taylor concluded, "CSDR is winding down our phase one response in Maui, Hawaii, this week, and will remain on standby for the phase two clean up. We are now gearing up to address whatever Hurricane Idalia may bring to the coast of Florida. Nurturing people's spiritual needs contributes to holistic healing. Everyone can benefit from spiritual care in times of disaster. Working in collaboration with other faiths we will continue to bring a ministry of spiritual presence to all those in need."
As a member of National VOAD, the Churches of Scientology Disaster Response (CSDR) staff and volunteers reach out to help those in need no matter what the circumstance. Our Volunteer Ministers are tasked with the duties of providing spiritual care as well as assisting with the unmet material needs of survivors, responders, and caregivers who are affected by trauma, loss, upset, stress and confusion after a disaster. For more than 20 years they have brought relief to those devastated by earthquakes, tornadoes, hurricanes, floods, bombings, shootings, and other disasters.
The Church of Scientology's long-term commitment to help is written throughout its scriptures. The Scientology Handbook, based on the works of L. Ron Hubbard, founder of the Scientology religion, defines the role of the Church of Scientology's Volunteer Ministers. Mr. Hubbard wrote, "A Volunteer Minister does not shut his eyes to the pain, evil and injustice of existence. Rather, he is trained to handle these things and help others achieve relief from them and new personal strength as well."
About VOAD:
The National VOAD has been written into FEMA's national disaster recovery framework and state emergency frameworks, creating a disaster network community unlike any other in the world. According to the National Disaster Recovery Framework, "VOADs are present at national, state, sub-state levels. The National VOAD member agencies provide skilled direct services along the continuum of preparedness mission areas, from pre-disaster through the longest-term recovery. These member agencies provide their services through comprehensive, coordinated volunteer resources in partnership with emergency managers. This cooperative effort has proven to be the most effective way for a wide variety of volunteers and organizations to work together in a crisis."
About CSDR:

Churches of Scientology Disaster Response was formed following 9/11 in response to the obvious need for more organized help year-round. Volunteer Ministers have responded to hundreds of disasters over the years ranging from tornados, earthquakes, floods and hurricanes to devastating wildfires. No matter the circumstances, their motto is, "Something can be done about it."
Rev. Susan Taylor
National Affairs Office
+1 202-667-6404
email us here
Originally published at https://www.einpresswire.com/article/652859009/while-disasters-wreck-havoc-spiritual-care-benefits-everyone-in-helping-survivors-recover