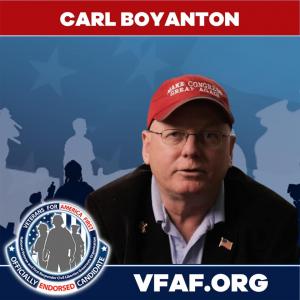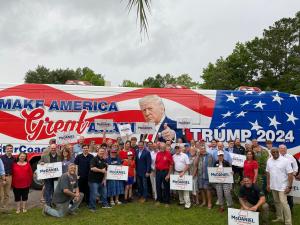 Carl Boyanton hosted event for Chris McDaniel
Veterans for America First AKA Veterans for Trump endorse businessman Carl Boyanton for MS4 announced Jared Craig VFAF ambassador.
Having spent time with Carl in MS I find him to be a true America First patriot that will support Trump and our movement. "
— Jared Craig attorney and VFAF Ambassador
DIAMONDHEAD, MISSISSIPPI, USA, September 11, 2023/EINPresswire.com/ — From L-Strategies the official press room of VFAF Veterans for Trump
Carl Boyington , a prominent Mississippi Businessman , President at Farmer Fresh Produce has been endorsed by the national veterans organization for his 2024 congressional bid.
"We are endorsing against the Incumbent Mike Ezell because he voted 15 times for Kevin McCarthy to be speaker when he campaigned stating he would not vote for him and other issues" said Jared Craig. https://www.wxxv25.com/congressmen-elect-ezell-pledges-support-to-mccarthy-for-house-speaker/
Ezell voted for the debt ceiling increase and against MTG's amendment to rehire unvaccinated pilots.

https://www.foxbusiness.com/politics/83-republicans-vote-against-bill-reinstate-pilots-fired-refusing-covid-19-vaccine
To date Ezell has not endorsed former President Trump for 47th president and as sheriff Ezell endorsed Delbert Hosemann. Delbert Hosemann when asked about election integrity told President Trump to "Jump in the Gulf" https://www.dailyleader.com/2017/06/30/hosemann-go-jump-in-the-gulf/
" Carl Boyanton reached out to us to roll our Trump bus into Diamondhead MS for an event he was hosting for Senator Chris McDaniel" said Stan Fitzgerald

https://fox59.com/business/press-releases/ein-presswire/632883043/veterans-for-trump-roll-the-trump-bus-to-mississippi-in-support-of-senator-chris-mcdaniel-for-lieutenant-governor/
This is the third endorsement this cycle the VFAF organization had made against incumbents. VFAF has issued an endorsement for Victor Avila in Texas

https://fox59.com/business/press-releases/ein-presswire/634854854/special-report-12-years-later-victor-avila-still-seeking-justice-for-his-partner-zapata-who-was-executed-by-the-cartel/ and Derrick Evans in West Virginia https://www.kron4.com/business/press-releases/ein-presswire/647207229/meet-derrick-evans-and-chuck-hand-january-6-defendants-running-for-united-states-congress/
The Veterans group is focusing on America First politics and is considered to have a powerful primary endorsement : https://fox59.com/business/press-releases/ein-presswire/645012264/the-powerful-primary-endorsement-from-veterans-for-trump-and-veterans-for-america-first/
VFAF Veterans for America First AKA Veterans for Trump was invited as part of the grass roots campaign to Mar-A-Lago in November 2022 for Donald Trump's announcement of his run for 47th president. The former president shared the endorsement of VFAF for his bid on the Truth Social Platform along with the article stating the organization was part of the campaign collation https://truthsocial.com/@realDon…/posts/109429493455546669
The Veterans group is partnered with Legacy PAC , a political action committee committed to preserving the Legacy of President Trump and promoting America First candidates. Stan Fitzgerald , Jared Craig , Mark Finchem , Kelli Ward and Martha Boneta Fain are on the Legacy PAC Team.

https://fox59.com/business/press-releases/ein-presswire/643301334/legacy-pac-commences-fundraising-efforts-led-by-mark-finchem-to-help-elect-the-next-generation-of-conservative-leaders/
For more information on the veterans group follow President Stan Fitzgerald on Twitter :

https://twitter.com/RealSFitzgerald

Stan Fitzgerald
L-Strategies LLC
+ 17707076291
email us here
Visit us on social media:
Facebook
Twitter
Carl Boyanton interview with Stan Fitzgerald


Originally published at https://www.einpresswire.com/article/655034248/veterans-for-america-first-endorse-carl-boyanton-for-ms4-against-incumbent-rep-ezell-2024