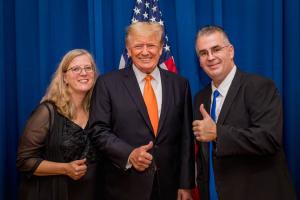 Stan and Donna Fitzgerald with President Trump
Jared Craig Legacy PAC President with President Trump
Veterans for America First aka Veterans for Trump president Stan Fitzgerald with Legacy PAC President Jared Craig to sponsor the next leg of the ongoing tour
John Fredericks and RAV have always been our priority for sponsorship , they do amazing work. "
— Stan Fitzgerald Veterans for Trump President
FREDERICKSBURG, VIRGINIA, USA , August 8, 2023/EINPresswire.com/ — From L-Strategies the official press room of Veterans for Trump:
Stan Fitzgerald President of Veterans for Trump ,and Jared Craig President of Legacy PAC , have sponsored several John Fredericks Trump bus tours since May 2022. The current leg of the tour will be launching soon supporting the Trump presidential campaign and America First candidates in Virginia and New Jersey.
The Veterans organization is known for having a strong primary endorsement.

https://fox59.com/business/press-releases/ein-presswire/645012264/the-powerful-primary-endorsement-from-veterans-for-trump-and-veterans-for-america-first/
John Fredericks has shown his bus tours have had a positive impact and result with the candidates they have on the show during the tours. Most recently the Veterans for Trump sponsored bus tour focused on the June Georgia State GOP MAGA slate which swept the convention.

https://www.kxan.com/business/press-releases/ein-presswire/637109931/trump-bus-heading-into-columbus-georgia-for-the-georgia-state-gop-convention-june-9th-and-10th-with-legacy-pac/
The John Fredericks Media Network is the fourth largest independent conservative news/talk radio network in America covering the Mid-Atlantic region from Philadelphia to Atlanta.
The John Fredericks Morning Show, heard 6 AM to 10 AM daily, has become must-listen radio. President Trump has been a regular guest since 2015.
John Fredericks served as Trump campaign chairman of Virginia in 2016 and 2020 and was elected Trump Delegation Chairman of Virginia in 2020. Fredericks has spent more than 40 years in the media, previously working as a journalist, newspaper editor, and television host.
Fredericks is also the Publisher of three Star News Media digital daily newspapers: Pennsylvania Daily Star, The Georgia Star News, and The Virginia Star. He and his wife Anne, the company's CEO, own a number of radio stations in Virginia, Georgia, and Pennsylvania.
In other VFAF news:
Former Veterans for Trump Media Rep Angie Wong called RAV anchor Steve Bannon a grifter who sold out the country. Wong posted on her social media just days after appearing on the networks Jeff Crouere Ringside Politics show.

https://veteransfortrump.us/angie-wong-calls-steve-bannon-a-grifter-who-sold-out-this-country/
For more on Angie Wong : https://fox59.com/business/press-releases/ein-presswire/643198619/angie-wong-former-legacy-pac-president-and-l-strategies-partner-sued-for-embezzlement-and-defamation-in-georgia/

Stan Fitzgerald Fitzgerald
L-Strategies LLC
+ 17707076291
email us here
Visit us on social media:
Facebook
Twitter
President Trump shout out to Stan and Donna Fitzgerald


Originally published at https://www.einpresswire.com/article/648837640/stan-fitzgerald-with-jared-craig-to-sponsor-real-america-s-voice-john-fredericks-bus-tour-with-veterans-for-trump