Project Pneuma Boys with Damion Cooper, Founder and Executive Director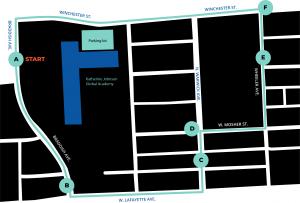 Breathing New Life 5K Route, A Pathway to Wholeness
A Pathway to Wholeness In Baltimore
It's about ensuring our boys, with the community's support, experience growth in every facet of life."
— Damion Cooper, Founder and Executive Director
BALTIMORE, MD, USA, August 4, 2023/EINPresswire.com/ — Project Pneuma, the impactful non-profit organization headquartered in Baltimore, MD proudly announces its "Breathing New Life" 5K walk/run/race, on August 12, 2023, at the Katherine Johnson Global Academy in Baltimore's 9th District.
A collaboration between Project Pneuma, Under Armour, the City of Baltimore, Baltimore City Public Schools, and the Baltimore Police Department, the event aims to uplift young Black boys in the city and reinforce its core values of forgiveness, self-control, discipline, and hope. The theme of this year's 5K is "A Pathway to Wholeness".
"Our 5K is a potent symbol of transformation," says Damion Cooper, founder and Executive Director of Project Pneuma. "It's about ensuring our boys, with the community's support, experience growth in every facet of life."
Project Pneuma's Pathway to Wholeness is about peace, forgiveness, mental health, and social-emotional wholeness. The event begins promptly at 8:00 am with registration and programming which includes a series of social-emotional learning activities. The 5K walk/run/race starts at 10:00 am sharp. Katherine Johnson Global Academy will serve as the host location and it's strongly recommended that participants arrive early. The event is for the entire community – families, run clubs, and other community groups are especially encouraged to sign up and participate. Volunteers are also welcome!
Participation in the 5K offers community members a unique opportunity to be part of a larger mission, emphasizing the transformative impact of unity and empowerment.
Join the movement! Register now for the "Breathing New Life" 5K walk/run/race at www.breathingnewlife.co and stand with Project Pneuma in their mission to empower, uplift, and transform. For further information about Project Pneuma visit www.projectpneuma.org or call (410) 450-4400.
The Project Pneuma 5K – A Pathway to Wholeness – is sponsored by BMe Community, The M. Sigmund and Barbara K. Shapiro Philanthropic Fund and PMG Agency.
About Project Pneuma
Project Pneuma is a 501(c)(3) non-profit organization based in the heart of downtown Baltimore. Founder and Executive Director, Damion Cooper, birthed Project Pneuma in 2014 after a near-death experience of being shot an inch above the heart at point-blank range. He began a healing journey of his own to teach lessons of forgiveness, self-control, discipline and redemption via mentorship. While mentoring a young man in prison during his years in Seminary, he discovered that his mentee was the assailant who shot him years earlier. The mission at Project Pneuma is to "Breathe New Life" holistically into the young men we serve by challenging them intellectually, strengthening them physically, nurturing them emotionally and uplifting them spiritually. We strive to teach our young men the art of forgiveness, self-control and discipline while giving them exposure to a new world of endless possibilities.
For Media Inquiries and Media Passes Please Call: 313-671-6174
Ken L. Porter
PMG Agency
[email protected]
Project Pneuma Breathing New Life 5K, A Pathway to Wholeness
Originally published at https://www.einpresswire.com/article/648210540/project-pneuma-launches-the-breathing-new-life-5k-in-baltimore