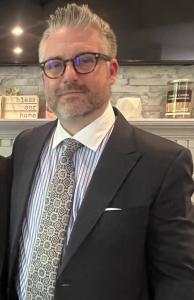 Shawn Peck, candidate for state Senate in New Jersey's second legislative district, is calling for an end to the idea of putting wind turbines…
These wind projects are nothing more than a subsidy for foreign companies, This is not the type of agenda that works for our state or our country"
— Shawn Peck, Libertarian LD2 Senate Candidate
ATLANTIC CITY, NJ, USA, August 25, 2023/EINPresswire.com/ — Shawn Peck, candidate for state Senate in New Jersey's second legislative district, is calling for an end to the idea of putting wind turbines off the New Jersey shore coastline. The libertarian candidate points to a few main reasons to explain his opposition towards the project that is getting support from both President Biden and Governor Murphy.
Peck offers the idea that wind turbines off the Jersey shore will impact tourism as the turbines would not be aesthetically pleasing to beach goers, as well as the impact on marine life. "This plan is already disrupting marine life as we have seen dead whales on our beaches," comments Peck. "New Jersey's seafood industry is vital to our economy and livelihood…that should not be gambled with."

Another point driving Peck's opposition is the wind projects do not support a concept of "American energy independence" as it is foreign companies who were getting the contracts, not American ones. "These wind projects are nothing more than a subsidy for foreign companies," says Peck. "This is not the type of agenda that works for our state or our country." Peck pledges that he would, as an elected member of the legislature, challenge such projects every step of the way to represent the true feelings district two constituents have on issues like this. Peck also applauds the efforts of New Jersey mayors, as well as Republican Congressman Chris Smith's efforts in their opposition to these wind projects.
Shawn Peck
Shawn Peck Libertarian for Senate
email us here
Visit us on social media:
Facebook
Originally published at https://www.einpresswire.com/article/651869738/nj-legislative-district-2-state-senate-candidate-shawn-peck-opposes-offshore-wind-projects