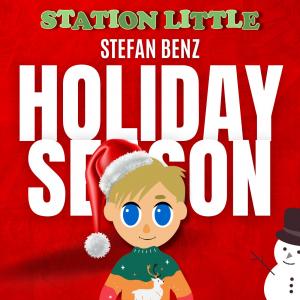 In a world of TikTok algorithms bombarding with what to buy next, it's refreshing that this team is giving the message to give back this Holiday Season.
This is our holiday season, thankful for so many reasons
We all need something to believe in.
So in this holiday season
Show a little love, it's better to give!"
— Stefan Benz
LOS ANGELES, CALIFORNIA, USA, November 1, 2023 /EINPresswire.com/ — Stefan Benz at just 17 is already making major waves in the US music industry. Spotted by record producer Manny Mijares (Dua Lipa, Pitbull, Craig David, Musiq Soulchild) at a local Long Beach talent show, Stefan Benz is the youngest global artist ever featured on Spotify's New Music Friday.
The song is catchy, the cause is good, and the message is overwhelmingly positive. With lines like, "Do some good in your neighborhood, Have you made somebody's day? Today you should", children and adults alike will be reminded of the true spirit of giving this Holiday Season. Not content for this impactful message to live online alone, Stefan Benz will perform 'Holiday Season' live with musician Elle Winter, and alongside Lance Bass (NSYNC) and AJ McLean (Backstreet Boys), at family-friendly events across the US this 'Holiday Season' and live on television appearances. Marines from Toys for Tots will also be in attendance.
There's a new generation of artists ready to join Mariah Carey's annual chart-topping 'All I Want For Christmas' this holiday season. One of these goes by the name of Stefan Benz, a South African musician who's not shy to share a message of love and positivity with the children of today. By teaming up with Station Little and the good people of Toys for Tots and the United States Marine Corps Reserve, Stefan Benz is showing that celebrities can build a brand while giving back.
'Holiday Season' is a catchy song, a super-fun video, and comes with a clever online presence that will capture the imagination of children as this record seeks to educate kids on human values and not just entertain with clickbaity clicks. And with the rollout of the song at events across America, 'Holiday Season' looks set to be the hit that families can sing along to, for so many good reasons!
As Stefan so eloquently sings,
"This is our holiday season, thankful for so many reasons
We all need something to believe in.
So in this holiday season
Show a little love, you wrap it up in a bow
And know it's better to give than I wanna live all day in the sun!"
Manny Mijares
Hit Music Partners
+1 949-922-2481
email us here
Visit us on social media:
Facebook
Instagram
YouTube
TikTok
Holiday Season by Stefan Benz


Originally published at https://www.einpresswire.com/article/663846888/holiday-season-hits-home-with-charitable-message-for-kids