George Farrell with Stan Fitzgerald in Mar-A-Lago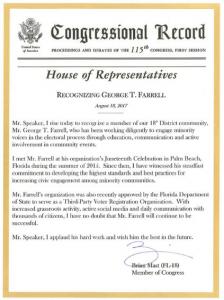 George Farrell Congressional Record
George T. Farrell founder, and chair of BlakPAC , to work with Veterans for Trump president Stan Fitzgerald on getting out the military vote for Trump in 2024
George led the first national minority organization that endorsed Donald Trump in 2016 and he has been supporting since."
— Stan Fitzgerald President Veterans For Trump
WASHINGTON, DC, USA, July 20, 2023/EINPresswire.com/ — From the L-Strategies press room:
George T. Farrell is the founder and chair of BlakPAC political action committee. Farrell is also an author and conservative commentator who has worked alongside Veterans for Trump for years helping to elect vets to congress.
Farrell interviewed with Stan Fitzgerald ,President of Veterans for Trump, where Farrell confirms his support of Donald J. Trump for the 47th President of the United States. Farrell ,and BlakPAC , have been supportive of the former president since March 17, 2016 when the organization officially endorsed Donald J Trump for 45th President. YouTube Link : https://www.youtube.com/watch?v=MdyZ3-6JNAw
BlackPAC was founded by George and Sandra Farrell in 2015. It is an organization supporting Conservative Minority Candidates and provides a uniquely effective strategy for bringing new minority voters to the Republican Party. The Black, Latin, Asian, Caucasian Knowledge Political Action Committee is directed by minority leaders that work to increase inclusion and understanding.
The BlackPAC ethos from the website are: to promote conservative, limited government policies that will help Americans and minorities prosper and to climb up the economic ladder and build a future for individuals, families, and businesses. To encourage and support conservative leaders who are guided by free-market principles with an eye toward protecting American interests first.
In 2015, BlackPAC was recognized by Bloomberg, NewsMax, and the Washington Examiner for providing the winning edge for Rick Scott.
https://www.blakpac.gop/accomplishments/
In September of 2020 BlakPAC called on candidates and parties to spend millions with Black businesses.
https://www.flcourier.com/news/business/black-superpac-calls-on-candidates-parties-to-spend-millions-with-black-businesses/article_6c0455d3-72bb-595d-af92-3765ae5bb893.html
Farrell now pledges his support to Donald J. Trump for the 2024 presidential race and will work with Veterans for Trump on getting the vote out for the former president.
For more about BlakPAC visit : https://www.blakpac.gop/
L-Strategies consulting firm is the official press room of Veterans for Trump.
Stan Fitzgerald Fitzgerald
L-Strategies LLC
+1 770-707-6291
email us here
Visit us on social media:
Facebook
Twitter
George Farrell founder of BlakPAC with Stan Fitzgerald president Veterans for Trump


Originally published at https://www.einpresswire.com/article/645443252/george-farrell-blakpac-founder-to-partner-with-veterans-for-trump-on-helping-vets-get-elected-to-congress