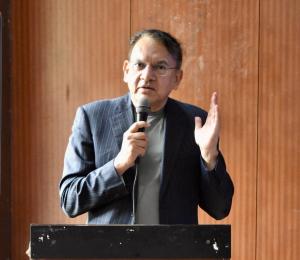 Learning with PINGALA of Edufront Technologies helps students achieve in weeks what American schools manage in years.
Don't Teach, Let Them Learn"
— Satish Jha
MUMBAI, MAHARASHTRA, INDIA, September 15, 2023/EINPresswire.com/ — Edufront Technologies announced today the launch of its partnership with Lokmanya Tilak International School, a school founded by Dr. Satish Chaturvdei to exemplify an ethos of holistic education in a modern society.
Lokmanya Tilak Int'l School based in Khoper Khairne, is the first school in New Mumbai to offer the PINGALA program with its International curriculum and US accreditation.
The PINGALA program provides unique, custom-designed, patented DIY kits that enable students to engage in hands-on learning experiences.
Edufront's STEM Robotics and AI Program is certified by US curriculum and is offered in partnership with Thimble.io, USA. They believe that India and its students are ready to gain a higher level of educational excellence and all that is needed is to create the right environment.
The program offers four levels of learning, ranging from Apprentice to Master Technician. Students will progress from beginner fundamentals to college-level material, gaining a comprehensive understanding of STEM AI and Robotics concepts. We provide 16 different kits across the 4 levels, catering to learning from grade 5 to grade 12.
While other labs are designed to make children learn skills that are mechanical in nature, PINGALA enhances the creativity of children, empowering them to curate and learn from their own innovations and projects.
Mrs. Ritu Kapur, The Principal of Lokmanya Tilak Int'l school stated that:
"We are the first school in New Bombay to offer The PINGALA program with its International curriculum and US accreditation. We are pleased to offer the program to all of our students as it complies with NEP guidelines"
Mr. Satish Jha, Chairman, Edufront Technologies stated:
"We at Edufront are excited to move forward with our partnership with Lokmanya Tilak International School, and see how our technology and framework can further enhance outcomes in a school with a unique and richly developed pedagogical approach. This follows our learning that teachers should facilitate learning rather than just teach, and let the students learn with their help."
About Edufront
Edufront is engaged in the development and adoption of innovative solutions to augment and democratise school learning worldwide. Its solutions comprehensively address the problems that students and teachers face at the administrative and pedagogical levels, from ERP style administrative augmentation to a STEM Robotics and AI program that allows Indian students to stand shoulder to shoulder with their global peers.
Satish Jha
The Jha Group
+1 2022862006
email us here
Visit us on social media:
Twitter
LinkedIn
YouTube
Introducing Edufront


Originally published at https://www.einpresswire.com/article/655937173/edufront-technologies-partners-with-mumbai-school-lokmanya-tilak-to-help-students-get-in-step-with-american-peers