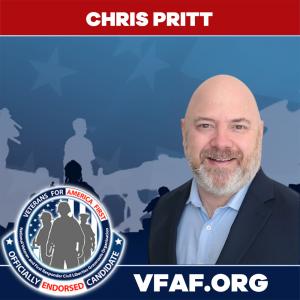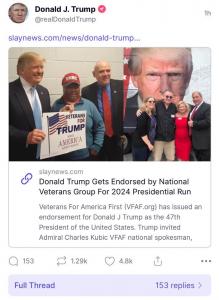 Former President Trump shares the VFAF Veterans for Trump endorsement on Truth Social with the article stating VFAF is part of the campaign collation
President Trump invites VFAF President Stan Fitzgerald , as a grassroots leader , to meet with him at the GA GOP State Convention
VFAF Veterans for Trump is announcing the endorsement of Delegate Chris Pritt for West Virginia SOS , announced Stan Fitzgerald VFAF President.
Chris Pritt is a true patriot and we trust him to secure our elections as the next WV Secretary of State"
— Stan Fitzgerald Veterans for Trump President
CHARLESTON, WEST VIRGINIA, USA , August 28, 2023/EINPresswire.com/ — From the L-Strategies press room , the official press of Veterans for Trump
Veterans for America First aka Veterans for Trump makes another endorsement in West Virginia. The national Veterans organization has endorsed Delegate Chris Pritt for the West Virginia Secretary of State position. Pritt is an attorney and the Deputy Majority Whip for the WV House of delegates.
Pritt has a conservative voting record and was ranked 100% by West Virginians for Life.

https://justfacts.votesmart.org/candidate/177746/chris-pritt
For more information on Chris Pritt visit : https://chrispritt.com/
The Veterans group is known for having an influential primary endorsement.

https://fox59.com/business/press-releases/ein-presswire/645012264/the-powerful-primary-endorsement-from-veterans-for-trump-and-veterans-for-america-first/
VFAF has also endorsed AG Patrick Morrisey for West Virginia Governor, Rep Alex Mooney for WV Senate, State Senator Mike Stuart for WV Attorney General and Derrick Evans for Congress.
"We feel this is the perfect MAGA ticket" for West Virginia said Veterans for Trump ambassador Jared Craig who is also the Georgia state chapter VFAF president.
West Virgina has a VFAF state chapter lead by Joseph Earley. Earley is a Veteran and a congressional candidate in West Virginia. The formation of state chapters is a long-term goal for the organization to better help with boots on the ground to support America First candidates nationwide.
VFAF Veterans for America First AKA Veterans for Trump was invited as part of the grass roots voices for Trump campaign collation to Mar-A-Lago in November 2022 for Donald Trumps announcement of his run for 47th president. The former president shared the endorsement of VFAF for his bid on the Truth Social Platform along with the article stating the organization was part of the campaign collation https://truthsocial.com/@realDon…/posts/109429493455546669
For more information on the veterans group follow President Stan Fitzgerald on Twitter :

https://twitter.com/RealSFitzgerald
Stan Fitzgerald Fitzgerald
L-Strategies LLC
+1 770-707-6291
email us here
Visit us on social media:
Facebook
Twitter
Chris Pritt endorsement interview with Stan Fitzgerald


Originally published at https://www.einpresswire.com/article/652374853/chris-pritt-for-wv-secretary-of-state-endorsed-by-national-veterans-group