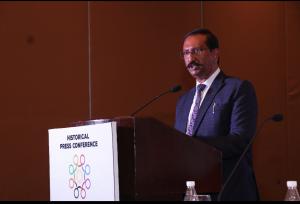 Bijender Goel, founder, Modern Pythian Games and Secretary General, International Pythian Council
Aushim Khetrapal , sports professional, nominated aChairman of the Global Strategic Planning, Communications, and Marketing Committee and vice President IPC
CENTRAL DELHI, DELHI, INDIA, May 25, 2023/EINPresswire.com/ — Mr. Bijender Goel, the founder of the Modern Pythian Games, constituted a nationwide organisational structure for the growth of the Modern Pythian Games in India and announced the National Executive Board by appointing Mr. B.H. Anilkumar and Mr. Rajesh Jogpal, both IAS officers, as President and Secretary General of the Pythian Council of India today. This development comes just before the highly anticipated 1st Annual General Meeting of the Pythian Council of India in New Delhi on May 27, 2023. The Pythian Council of India is going to decide the calendar of events at this meeting.
Mr. Goel has appointed key individuals to positions within the National Council and state councils, comprising a diverse group of bureaucrats, artists, and industrialists, with the objective of creating a nationwide organisational structure to promote traditional games and artistic activities through the Modern Pythian Games.
Mr. S. Siva Kumar has been appointed as Treasurer of the National Council, and several Vice Presidents have been appointed, namely Avinash P. Gandhi; Dr. Hari Om, IAS; Mr. Quaiser Khalid, IPS; Mr. Neeraj Kharwal, IAS; and Mr. Mukesh Kumar Singh, IAS.
Mr. Jatin Lal, IAS, Ms. Sneha Venkatramani, Mr. T.P. Singh, Mr. Jaywant Naidu, Mr. Daya Chand Bhola, Ms. Radhika Khetarpal, Mr. Israel G. Xuivi, Mr. Manoj Kumar Singh, Mr. Ravi Dahiya, Dr. Piyush Diwedi, Dr. Ashwani Kumar, Mr. Arshad Aziz, Mr. Ram Deyal, and Mr. Om Prakash are nominated as new additional Secretary Generals and Deputy Secretary Generals of the National Councils, respectively.
Mr. Goel has also announced the appointment of Mr. Aushim Khetrapal as Vice President of the International Pythian Council and Chairman of the Global Strategic Planning, Communications, and Marketing Committee. Mr. Khetrapal, a well-known figure in India with vast experience in organising international events and promoting sports, will play a pivotal role in shaping the future of the Pythian Games.
"It is the beginning of the first global cultural movement from India, and it is an honour for me to announce the historic formation of the Pythian Council of India. This marks a significant step forward in 2023 after introducing the concept of the Modern Pythian Games to the world at the Delphi Economic Forum in Greece and subsequently establishing the International Pythian Council and reviving the Modern Pythian Games in 2022. The National Pythian Councils of 18 countries are in the process of legal establishment," expressed Mr. Goel.
He also added that "our primary focus is to identify specific activities in the fields of arts, cultures, and diverse sports for the Pythian Games, which will serve as a source of inspiration for people worldwide. The inclusion of traditional Indian games in the list of Pythian games will capture global attention and promote the widespread popularity of these games."
Highlighting the cultural and historical significance of the Pythian Games, Mr. Goel emphasised that India holds global trademark rights. The Pythian Games align with the United Nations' agenda to promote traditional cultural games and cultures. The Pythian and Olympic Games originated in Greek history and were part of the four Pan-Hellenic Games. These games existed in the same era, from 582 BC to 394 AD. The Pythian Games represent a fusion of traditional games and artistic activities, similar to what the Olympics are to sports.
India boasts a rich history encompassing various arts, cultures, traditional games, and martial arts, all of which are integral to our cultural heritage. The Pythian Council of India aims not only to focus on fields such as music, dance, poetry, painting, writing, theatre, culinary arts, and digital arts but also to highlight games that are still played in villages and talukas across the country. Notable examples of traditional Indian games include Circle Kabaddi, Mallar Kambh, Modern Polo, Spear Throw, Yubi Lakpi, Chaturanga, Jalli Kattu, Sagol Kangjei, Kite Flying, Tug of War, Carrom, Tenni Koit, Ball Badminton, Long Jump Traditional, Traditional Archery, Bull Race, Cycle Marathon, and Val-lam Kali. Additionally, India is home to various martial arts such as Kalaripayattu, Thang-ta, Gatka, Silambam, Mallayuddha, Kushti, Varma Kalai, Thoda, and Marma Adi.
The formation of the Executive Board of the Pythian Council of India, a special committee of Delphic India Trust, comprises the following names:

PYTHIAN COUNCIL Of INDIA

National Executive Board

S.No. NAME Designation
1 Mr. B. H. ANIL Kumar, IAS (Retd) President

2 Mr. Avinash P. Gandhi Vice President

3 Dr. Hari OM, IAS Vice President

4 DR. Quaiser Khalid, IPS Vice President

5 Dr. Neeraj Kharwal, IAS Vice President

6 Mr. Mukesh Kumar, IAS Vice President

7 Mr. Rajesh Jogpal, IAS Secretary General

8 Mr. Jatin Lal, IAS Additional Secretary General (Organisation)

9 Ms Sneha Venkatramani Additional Secretary General (Arts)

10. Mr. T.P. Singh Additional Secretary General (admin)

11 Mr. Daya Chand Bhola Dy Secretary General- Sports

12 Mr. Jaywant Naidu Dy Secretary General- Music Arts

13 Ms. Radhika Khetarpal Dy Secretary General- Media & Communication

14 Dr Ashwani Kumar Dy Secretary General- Education

15 Mr Ravi Dahiya Dy Secretary General- HQ

16 Mr Manoj Kumar Dy. Secretary General- Tribal Arts

17 Mr. S. SIVA Kumar Treasurer

18 Mr. Rajiv Gupta IAS Member

19 Dr. Rafi Masoodi Member

20 Mr. M Rajsekhar, PCS Member

21 Mr. Ram Deyal Member

22 Mr. Piyush Dwivedi Member

23 Mr. Laxman Nasarpuri Member

24 Ms. Archana Tyagi Adviser – Media & Communication

23 Mr. Isreal Xuivi, NPS Adviser – Martial Arts

24 Mrs Malathi Rajavelu Adviser – South

25 Mr. Om Prakash Adviser- North East

26 Capt. K S Chauhan Adviser-West

27 Dr. Rafiq Masoodi Adviser – North

28 Dr. USHA R.K. Adviser to President- INDIA
STATE PRESIDENTS & SECRETARY GENERALS

STATE President Secretary General
1. Puducherry Mrs Malathi Rajavelu Mr. M. Rajsekar

2 Punjab Mr Rajiv Gupta, IAS Mr. Abhinav Gupta

3 Himachal Pradesh Mr Jatin Lal, IAS Mr. Eshan Akhtar

4 Haryana Mr. Rajesh Jogpal, IAS Dr Arun Prasad

5 Uttarakhand Dr Neraj Kharwal, IAS Mr. Shiv Pratap SIngh

6 Uttar Pradesh Dr Hari Om, IAS Daya chand Bhola

7 Jharkhand Mr. Mukesh Kumar IAS Mr Kumar Manoj SIngh
S. Siva Kumar
International Pythian Council
email us here
Visit us on social media:
Facebook
Twitter
LinkedIn
Instagram
YouTube
Other


Originally published at https://www.einpresswire.com/article/635801068/bijender-goel-announces-formation-of-executive-boards-for-pythian-games-b-h-anilkumar-and-rajesh-jogpal-to-lead-india