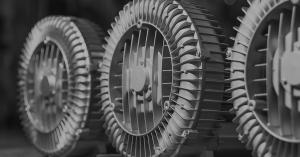 Experienced Industry Professionals Found Vactegra, Pioneering Exceptional Solutions Spanning from Southern Florida to Nationwide
WESTON, FLORIDA, UNITED STATES, August 13, 2023/EINPresswire.com/ — Vactegra LLC, a dynamic and visionary presence within the vacuum and compressor equipment sector, is delighted to declare its official launch as a leading supplier of state-of-the-art solutions, including an expansive array of regenerative blowers. Formed by a group of seasoned experts boasting a collective experience of over 8 years in the industry, Vactegra is set to redefine the market landscape through the delivery of unparalleled products and unmatched services.
Inception of Vactegra's journey occurred in July 2023, driven by a resolute mission: to furnish clients across the United States with the finest vacuum pumps, low-pressure compressors, and essential ancillaries, including an extensive line of regenerative blowers. Among these offerings are the low-pressure regenerative blowers VL, designed to meet a variety of needs. Additionally, Vactegra caters to specific demand applications with its high-pressure models VH, further expanding its ability to tailor solutions to unique customer requirements.
While situated at its headquarters amidst the vibrant surroundings of southern Florida, the company remains resolute in catering to customers spanning the entire nation.
Vactegra goes beyond the traditional supplier role, actively becoming a strategic ally to its clientele. Providing an all-encompassing suite of services encompassing equipment selection guidance, meticulous pneumatic system calculations, and proficient technical consultations, Vactegra guarantees bespoke solutions meticulously tailored to meet each customer's distinct needs.
A testament to its dedication to pioneering advancements, Vactegra positions itself at the vanguard of industry progress. Possessing a remarkable agility, the company adeptly embraces emerging trends and cutting-edge technologies, guaranteeing that patrons derive maximum efficiency from the most forward-thinking products available.
Notwithstanding its recent inception, Vactegra has already forged robust and enduring partnerships with clients spanning diverse sectors. Its steadfast commitment to excellence, coupled with its unparalleled proficiency, has cultivated trust among industry frontrunners and enterprises alike.
Strategically nestled in southern Florida, Vactegra's geographical placement ensures optimal service provision, not solely within the region but across the entirety of the United States. Its influence stretches beyond state confines, as the company remains unwavering in its dedication to serving clients across the nation, irrespective of their geographic location.
For inquiries, comprehensive details, and an exploration of the innovative solutions presented by Vactegra, including its extensive line of regenerative blowers, please navigate to https://vactegra.com or connect via [email protected].
Peter Stockton
Vactegra LLC
+1 561-962-1440
[email protected]
Visit us on social media:
Facebook
LinkedIn
Instagram


Originally published at https://www.einpresswire.com/article/649624922/vactegra-llc-unveils-as-a-premier-provider-of-vacuum-and-compressor-solutions