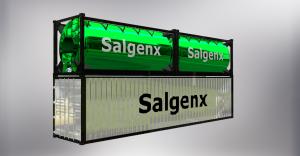 Salgenx Offers Grid-Scale Battery Technology for Self Branding and Access to Tax Credits
This program represents a unique opportunity for businesses and entrepreneurs to enter the grid-scale battery market with a environmentally conscious technology"
— Greg Giese, CEO at Salgenx
MADISON, WI, USA, October 25, 2023 /EINPresswire.com/ — Salgenx, a pioneer in salt water grid-based flow battery technology, is excited to announce the launch of its "Build Your Own Brand" licensing and franchise program. This groundbreaking initiative offers entrepreneurs and businesses the chance to enter the rapidly growing grid-scale battery market with Salgenx's cutting-edge technology.
The "Build Your Own Brand" program empowers partners to take advantage of Salgenx's advanced salt water flow battery technology and commercialize it through the installation of these systems into standard shipping containers. Unlike traditional manufacturing processes, the only factory assembly required is for the electrolyzers, allowing for seamless vertical integration. Shipping containers can be sourced from anywhere in the world, reducing shipping costs and increasing accessibility.
One of the key environmental benefits of Salgenx's technology is its full recyclability. These batteries are designed with sustainability in mind, and even the containers used for housing the systems can be reused, minimizing waste and environmental impact.
One of the most attractive features of the program is its rapid time to market. With Salgenx's support and expertise, partners can bring their branded energy storage solutions to market in less than 12 months, positioning them to meet the growing demand for grid-scale energy storage solutions.
In the United States, partners also stand to benefit from a tax credit of $35 per kilowatt, further enhancing the financial viability of the "Build Your Own Brand" program. Tax credits can be used or monetized by sale to a unrelated party.
"This program represents a unique opportunity for businesses and entrepreneurs to enter the grid-scale battery market with a environmentally conscious technology," said Greg Giese, CEO at Salgenx. "We are excited to partner with individuals and organizations looking to make a meaningful impact on the energy industry while also contributing to a more sustainable future."
Salgenx's "Build Your Own Brand" licensing and franchise program allows access the energy storage market by offering a cost-effective, sustainable, and rapid entry point for innovative solutions.
About Salgenx:
Salgenx (a division of Infinity Turbine LLC) is a leader in grid-scale energy storage solutions, specializing in salt water flow batteries. With a focus on affordability, sustainability, and scalability, Salgenx's technology is at the forefront of the transition to a cleaner and more efficient energy future.
Contact: Greg Giese | CEO | Infinity Turbine LLC | [email protected] | [email protected]
Infinity Turbine Website: https://www.infinityturbine.com
Saltwater Battery Website: https://salgenx.com
Gregory Giese
Infinity Turbine LLC
+1 6082386001
email us here
Originally published at https://www.einpresswire.com/article/664075372/salgenx-opens-new-opportunities-in-the-energy-storage-market-with-build-your-own-brand-licensing-and-franchise-program