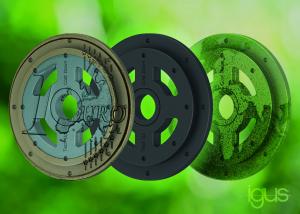 The new igus slewing ring bearing consists of 97% regranulated plastic, which makes it not only sustainable but also cost-effective. (Source: igus GmbH)
igus is adding a ready-to-install low-cost variant made from regranulated high-performance plastics to its iglide PRT series
STAMFORD, CT, UNITED STATES, August 24, 2023/EINPresswire.com/ — The motion plastics specialist igus® has expanded its iglide® PRT series by adding a ready-to-install low-cost variant made from granulated high-performance plastics.
PRT-05-15-PC has been designed to reduce costs and help protect the environment. The new swivel joint bearing consists of 97% regranulated high-performance plastics.
From packaging machines to assembly lines to operating tables, slewing ring bearings are used in a variety of rotating applications around a fixed axis. However, the bearings are often oversized and too costly for many bearing points with low loads, such as in furniture or display technology. As a result, these applications often contain metal ball bearings. The problem is that the rolling bearings usually take up a lot of space and require installation effort because they frequently need replacement. At the same time, they require maintenance because permanent lubrication is necessary for their function.
"To eliminate these disadvantages, we decided to expand our slewing ring bearing portfolio with a ready-to-install low-cost variant. The new PRT-05-15-PC model is available for just 40 euros (43.50 USD)," says Marc Trenkler, iglide PRT product manager at igus. "Until now, a ready-to-install and relatively inexpensive swivel joint bearing was hardly to be found on the market," says Trenkler.
Minimalist design reduces required installation space, weight, and costs

The PRT-05-15-PC consists only of an inner ring and an outer ring, which execute a sliding movement on each other without balls. It is produced entirely from lightweight, high-performance plastics in the cost-effective injection molding process – without a single gram of metal. With a diameter of 100 millimeters (3.93 inches), the bearing is only 10 millimeters (0.39 inches) high and weighs just 72 grams. Thanks to this reduced complexity, the new low-cost swivel joint bearing is compact, lightweight, and quick to install.
"Our goal was to create a lightweight, compact, and ready-to-install bearing from as few components as possible," emphasizes Mark Trenkler.
"Our employees only have to click the inner and outer rings together using a clip bearing. This allows us to offer the bearing to our customers at a low cost," explains Trenkler.
Low-cost slewing ring bearing made of 97% regranulate

The new PRT consists of 97% regranulated iglide M260 and iglide P4 high-performance plastics. These are already processed materials, such as sprues from production. This makes it possible to preserve valuable plastics from incineration and transfer them into a sustainable recycling economy.
It is also environmentally friendly that the plastic has integrated, microscopically small solid lubricants that are released during operation and enable low-friction dry running without grease. This is also a significant advantage because millions of tons of lubricants pollute the environment yearly.
Lastly, the new PRT is highly durable, especially outdoors. The polymer bearings do not corrode and are also resistant to contamination by grease and dirt. Therefore, they do not have to be replaced as often.
"This allows the iglide PRT-05-15-PC to support the EU sustainability strategy," says Marc Trenkler.
That strategy is aimed at making Europe the first climate-neutral continent by 2050 while also promoting economic growth.
Learn more about igus' commitment to sustainability here: https://www.igus.com/info/sustainability
ABOUT IGUS:

igus GmbH develops and produces motion plastics. These self-lubricating, high-performance polymers improve technology and reduce costs wherever things move. In energy supplies, highly flexible cables, plain and linear bearings, and lead screw technology made of tribo-polymers, igus is the worldwide market leader. The family-run company based in Cologne, Germany, is represented in 31 countries and employs 4,600 people across the globe. In 2022, igus generated a turnover of €1.15 billion. Research in the industry's largest test laboratories constantly yields innovations and more user security. Two hundred thirty-four thousand articles are available from stock, and service life can be calculated online. In recent years, the company has expanded by creating internal startups, for example, ball bearings, robot drives, 3D printing, the RBTX platform for Lean Robotics, and intelligent "smart plastics" for Industry 4.0. Among the most significant environmental investments are the "chainge" program – recycling used e-chains and participating in an enterprise that produces oil from plastic waste.
Michael Rielly
igus GmbH
+1 800-521-2747
[email protected]
Originally published at https://www.einpresswire.com/article/651769074/record-low-costs-and-sustainability-new-slewing-ring-bearings-from-igus