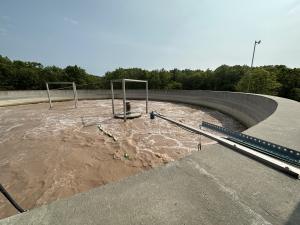 Moleaer's nanobubble generator (NBG) installed inline to recirculate NBs inside Meister's anaerobic digester to break down the antimicrobial surfactants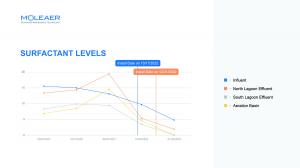 Surfactant Level Reduction resulting from incorporation of Moleaer nanobubble technology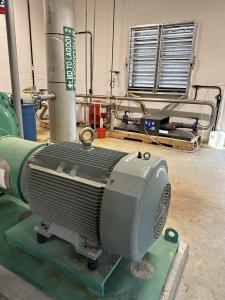 Moleaer Nanobubble Generator Installed at Meister Plant
Dedicated to high quality and sustainability, with nanobubble technology, Meister resolved complex wastewater challenges that curtailed growth to meet demand.
We plan to increase production by over 20 million pounds of product in the next 3 years since installing Moleaer equipment. We're also avoiding $10 million in CAPEX improvements we would've needed. "
— Larry Harris, Master Cheesemaker and Operations Manager, Meister
HAWTHORNE, CA, UNITED STATES, October 3, 2023 /EINPresswire.com/ — Along Wisconsin's picturesque landscapes, where dairy farming is a way of life, Meister Cheese (Meister) is a family-owned business that has been crafting private-label cheese and dairy products since 1916. While dedicated to high quality and sustainability, Meister faced complex wastewater challenges that curtailed their goal to grow and meet the market demand. High concentrations of antimicrobial compounds in dairy wastewater stemming from Clean-in-Place practices made biological wastewater treatment extremely difficult to manage. As a result, Meister could not increase production as their wastewater treatment facility could not handle the additional load.
Anaerobic Digestion Inefficiencies Halting Company Growth
Meister has always incorporated sustainable practices into its entire business – from cheese production to wastewater treatment. To be good environmental stewards in their community, they ensure that the highest quality effluent is being returned to the environment. The company uses an anaerobic digester to produce methane gas, or biogas, which fuels the cogeneration system that provides electricity for their operations.
However, the biogas production process can be sensitive. From rigorous food safety standards and Clean-in-Place procedures, the high concentration of antimicrobial compounds in cheese production wastewater inhibits the microbes that convert waste into valuable biogas. Meister's inhibited anaerobic digestion led to an overloaded treatment plant that was difficult to manage along with high operation and maintenance costs.
Meister's options were stark. With an overloaded wastewater treatment system, the dairy farm would need to reduce cheese production or bear the cost of hauling high-strength sludge away. Neither option was financially or environmentally appealing. Meister needed a solution that would remove antimicrobial compounds from its wastewater to enhance biogas production, reduce hauling costs, and avoid a severe impact on its bottom line.
Embracing Nanobubble Technology
Enter Moleaer's nanobubble (NB) technology. In October 2022, Meister installed Moleaer's nanobubble generator (NBG) inline to recirculate NBs inside of its anaerobic digester to break down the antimicrobial surfactants upsetting the process. Two months later, Meister installed another inline unit upstream of the digester to recirculate NBs at the lift station. The NB technology uses air and water to generate in-situ clean chemistry and selectively removes inhibitory compounds, like disinfection products, soaps, and surfactants.
While 2,500 times smaller than a grain of salt, nanobubbles exhibit unique characteristics that improve many physical, chemical, and biological treatment processes. Their physical properties enhance a range of known oxidation processes that improve wastewater quality without chemical addition. Moleaer's proprietary nanobubble generators combined with the properties of nanobubbles enable industries to apply known oxidative gases, such as oxygen and ozone, more efficiently than any other injection device, further improving the oxidative effect. This capability allows Moleaer's technology to deliver unparalleled results when compared to traditional oxidation methods to remove/break down inhibitory compounds like fats, oils, surfactants, and certain contaminants of emerging concern.
Meister's results were transformative. The nanobubbles reduced the wastewater's antimicrobial surfactant concentrations from as high as 19 mg/L to non-detectable. The removal of surfactants from Meister's wastewater increased the conversion of chemical oxygen demand (COD) to biogas in the anaerobic digester and cogeneration uptime.
Benefits of Nanobubbles: Cost Savings, Increased Production & Sustainability
Before installing Moleaer's NB units, difficult-to-treat sludge forced the farm to haul as much as three million gallons of waste in 2022. Removing sludge from the process also lowered gas production, disrupting the cogeneration system's benefits. After installation, hauling almost stopped, with only 12,000 gallons of waste trucked offsite. Gas production increased by an average of 20% since installing nanobubble technology. The volume of biogas produced per pound of COD destroyed increased by 30 percent, enhancing gas production and the overall treatment system's performance.
The financial impact was equally impressive. Larry Harris, Master Cheesemaker and operations manager at Meister stated, "We're planning to increase production by over 20 million pounds of cheese and whey products over the next three years since installing Moleaer equipment in our wastewater process. That includes avoiding $10 million in CAPEX improvements we would have needed to make. We recommend Moleaer's system for other cheese manufacturers looking to increase their wastewater treatment capacity and production at the same time."
On top of avoided capital expenditures, operation costs fell as well. After the NBG installations, alkalinity rose within the digester, reducing the demand for magnesium hydroxide chemical addition. NB's emulsifying effect also improved settleability, which increased the secondary clarifier's capacity. With the anaerobic digester predictably producing more biogas, cogeneration uptime increased by 21 percent. Between the value of biogas and Meister's improved treatment, the dairy farm saw a payback period of less than one month after installing both NBGs.
A Future with Nanobubble Technology
Proven technologies continue to reshape the norms of dairy wastewater treatment. Pretreatment with NBs enabled Meister to change the direction of their plant's capital and operational expenses to a degree that was unimaginable a year ago. The direct inhibitory compound removal intensified the treatment facility and balanced wastewater quality while reducing traditional chemical addition.
By embracing cutting-edge technology, this century-old cheese manufacturer enhanced their sustainability practices and, at the same time, improved their business. Removing antimicrobial compounds from wastewater with NBs allows dairy processors to comply with health regulations while mitigating their effects on the wastewater treatment process. In a world where sustainability and efficiency are paramount, the partnership between Meister and Moleaer offers a model for others in the dairy industry to cost-effectively treat wastewater and solve the unique challenges they face.
###
About Moleaer
Moleaer is the global leader in nanobubble technology with a mission to do more using less water. By deploying the power of nanobubbles, the company enhances and improves the performance and productivity of many of the world's most critical industrial processes. Its proprietary nanobubble technology unlocks the power of water to help farmers grow more food, empowers businesses to manage water more effectively and efficiently, and restores aquatic ecosystems sustainably without chemicals.
Jenn Fisher
Moleaer
+1 (424) 558-3567
[email protected]
Anaerobic Digestion: Nanobubbles Enable Meister Cheese to Increase Biogas & Cheese Production
Originally published at https://www.einpresswire.com/article/658703428/moleaer-s-nanobubble-technology-helps-meister-cheese-increase-production