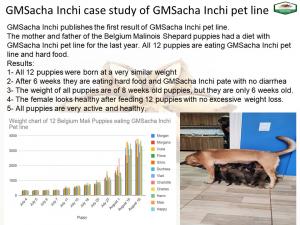 GMSacha Inchi case study Belguim Malinois Puppies
Future of vegan beverage
GMSacha Inchi $QEDN will meet with Nestle on Aug 31 and Sept 1, 2023 in Bogota and Case study result on Belguim Malinois puppies
QED Connect dba GMSacha Inchi (OTCMKTS:QEDN)
GMSacha Inchi a new lifesyle for farmers, consumers and their pets"
— Nanny Katharina (Kate) Bahnsen
MEDELLIN, ANTIOQUIA, COLOMBIA, August 24, 2023/EINPresswire.com/ — GMSacha Inchi $QEDN has been working with Nestle since January 17, 2020, to design healthy products made with Sacha Inchi that will fit the needs of healthy lifestyle creating a brand that could be the next silk that sold for $10.6 Billions USD
On June 14, 2023 GMSacha Inchi $QEDN submitted all the due diligence document to be part of the accelerated program of Nestle, that inclueded a budget to Nestle of $25,000,000 USD to bring final GMSacha Inchi beverage to the USA and the world market in less then 6 months.
GMS $QEDN will meet with Nestle on August 31 and September 1, 2023 in Bogota to discuss the budget and the possibility to do a joint venture between GMS $QEDN.
This budget doesn't include a budget to grow more Sacha Inchi in Colombia.
GMSacha Inchi beverage is the top priority product because:
According to Strategic Market Research: "The global plant-based milk market will witness a robust CAGR of 15%, valued at $35 billion in 2021, expected to appreciate and reach $123.1 billion by 2030, confirms Strategic Market Research.
https://www.strategicmarketresearch.com/market-report/plant-based-milk-market
GMSacha Inchi with the possible help of Nestle wants to penetrate at least 5 % of the plant-based beverage market by 2025-2026 and then grow at a 2% to 5% rate every year.
GMSacha Inchi $QEDN believes that the GMSacha Inchi beverage could be a leader in the plant-based beverage market because is the only beverage that has 29 grams of protein all 9 essential amino acids and Omega 3,6,9.
GMSacha Inchi $QEDN has sold already prodcuts on Walmart seller center https://www.walmart.com/search?q=GMsacha%20inchi
GMSacha Inchi $QEDN brand has been approved by grupo exito and carulla and you can expect to find the prodcut on both retail stores very soon.
https://www.carulla.com/
https://www.exito.com/
GMSacha Inchi publishes the first result of GMSacha Inchi pet line.
The mother and father of the Belgium Malinois Shepard puppies had a diet with GMSacha Inchi pet line for the last year. All 12 puppies are eating GMSacha Inchi pet line and hard food.
Results:
1- All 12 puppies were born at a very similar weight
2- After 6 weeks they are eating hard food and GMSacha Inchi pate with no diarrhea
3- The weight of all puppies are of 8 weeks old puppies, but they are only 6 weeks old.
4- The female looks healthy after feeding 12 puppies
About the Accelerated program of Nestle:
"Partner with Nestlé for disruptive Food & Beverage Innovations:
Go from Idea to Shop in six months"
https://rdaccelerator.nestle.com/
"Lausanne, Switzerland,
Today, Nestlé officially inaugurated its largest R+D Accelerator, which is located at the company's fundamental research center in Lausanne, Switzerland. It is part of Nestlé's global R+D Accelerator network which was launched in 2019. The R+D Accelerator provides a unique platform for startups, students and Nestlé intrapreneurs to bring highly differentiated innovations to the market fast.
The internal and external teams have full access to Nestlé's state-of-the-art infrastructure and unmatched science, technology and business expertise. Using early trends, differentiating technologies and scientific discoveries as sources of inspiration, the teams develop innovative product solutions in a six-month immersive 'idea to shop' program.
They can consult with Nestlé's R&D experts from around the world such as food technologists, nutritionists, regulatory and food safety experts, designers and packaging experts. Each team also receives hands-on support from dedicated innovation coaches and mentoring from Nestlé's senior management.
"We give internal and external entrepreneurs full access to all the expertise and infrastructure they need to translate their idea into a product – from analytical labs, experimental kitchens, to prototyping and production facilities – and we help them test their innovations in real-market conditions," says Tom Wagner, Head of the Nestlé R+D Accelerator program.
Today, Nestlé's global R+D Accelerator network consists of 12 sites in 8 different countries. Each Accelerator is located at a Nestlé R&D site and focuses on a specific product category or region. For example, Nestlé has Accelerators at its R&D centers for dairy, nutrition, coffee, confectionery or food products. Regional Accelerators in China, India, U.S., ASEAN and Sub-Saharan Africa work with local start-ups and students to develop innovations relevant to their regions.
The newly inaugurated site that is embedded at Nestlé's research facilities in Lausanne accelerates the translation of fundamental science into cross-category innovations. It is the industry's largest Accelerator, covering a 4000 m2 surface with a variety of co-working stations, prototyping kitchens and mini-production facilities. It can host up to 10 teams simultaneously. Located at the heart of the Swiss Food & Nutrition Valley, teams have access to a sophisticated innovation ecosystem in the area of food and nutrition.
"At our R+D Accelerators we combine the creativity and entrepreneurship of students, start-ups and intrapreneurs with Nestlé's extensive scientific and technological expertise. The initiative creates learning opportunities for both internal and external talents, builds competencies and fosters an entrepreneurial culture across our sites. It is great to see the passion and excitement of the teams as they go from an idea to a test launch in just a few months, overcoming many different challenges along the way!", says Stefan Palzer, Nestlé Chief Technology Officer.
Since 2019, 165 participants have participated in the R+D Accelerator program and almost 80 products have been tested in 18 countries. Recent launches include the pea-based milk alternative Wunda, as well as a number of science-based nutritional concepts. "
https://www.nestle.com/media/pressreleases/allpressreleases/nestle-rd-accelerator-lausanne-inauguration#:~:text=The%20R%2BD%20Accelerator%20provides,science%2C%20technology%20and%20business%20expertise.
https://rdaccelerator.nestle.com/
A safe harbor for forward-looking statements is provided by the Private Securities Litigation Reform Act of 1995 (Reform Act of 1995). The Reform Act of 1995 was adopted to encourage such forward-looking statements without the threat of litigation, provided those statements are identified as forward-looking and are accompanied by meaningful cautionary statements identifying important factors that could cause the actual results to differ materially from those projected in the statement. Forward-looking statements have been and will be made in written documents and oral presentations of QED Connect (GMS) and its subsidiaries. Such statements are based on management beliefs, as well as assumptions made by and information currently available to management.
Katharina Nanny Bahnsen
GMSacha Inchi QEDN
+1 775-391-5177
email us here
Visit us on social media:
Facebook
Twitter
LinkedIn
Other
CEO interview with Jane King at New to the Street


Originally published at https://www.einpresswire.com/article/651765277/gmsacha-inchi-qedn-will-meet-with-nestle-on-aug-31-and-sept-1-2023-and-case-study-result-on-belguim-malinois-puppies