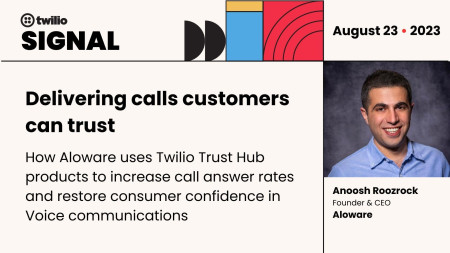 Press Release
•

Aug 11, 2023

LOS ANGELES, August 11, 2023 (Newswire.com)
–
Anoosh Roozrock, CEO and co-founder of Aloware, will be presenting at SIGNAL 2023, Twilio's annual customer and developer conference on Aug. 23, 2023. SIGNAL is recognized as the paramount event for developers and business leaders to learn about the latest trends in cloud communications and explore the future of customer engagement.
This year, in line with the present-day outbound-calling regulatory pressure faced by businesses, Roozrock's presentation, aptly named "Delivering Calls Consumers Can Trust," will explore the complexities of the voice-security regulatory ecosystem. With the mounting threats of robocalls and scams, organizations are constantly battling against their legitimate calls being inaccurately labeled as Spam or even facing blocks by carriers. Addressing this issue head-on, Roozrock will articulate strategies for businesses to adeptly navigate intricate regulations, with a special focus on the FCC's STIR/SHAKEN protocol. The ultimate aim? Ensuring businesses fortify their caller reputation and improve their call pick-up rates.
Aloware stands as a beacon in the realm of communications compliance. Dedicated to facilitating transparent and authentic communication and leveraging Twilio's Trusted Hub suite of products, Aloware has seamlessly integrated services and features to ensure adherence of regulatory protocols, including STIR/SHAKEN for calling and A2P 10DLC for texting. This compliance is pivotal as carriers leverage it to shield mobile users from unwarranted spam and unsolicited messages sent via long-code phone numbers.
To learn more about Aloware's leading compliant calling and texting software, visit Aloware.com. 
Source: Aloware
Originally published at https://www.newswire.com/news/trusted-voice-communications-anoosh-roozrock-at-signal-2023-22103118