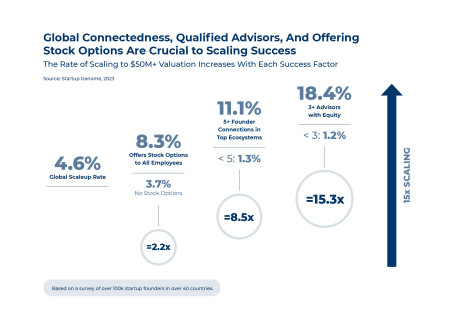 Press Release
•

Sep 19, 2023
A decade of research uncovers which factors lead startups to become scaleups

SAN FRANCISCO, September 19, 2023 (Newswire.com)
–
The Scaleup Report by Startup Genome, Global Entrepreneurship Network and Dealroom has launched today at the Global Entrepreneurship Congress in Melbourne. The Report provides insights into the characteristics that separate startups that successfully scaled from those that failed and highlights actionable insights for entrepreneurs, enterprise support organizations, and policymakers seeking to increase the proportion of startups scaling to $50 million+ valuation. Powered by the most comprehensive dataset on startup ecosystems, it draws from Startup Genome's independent research, assessment, policy strategy work, and a decade of longitudinal scaleup research examining hundreds of objective metrics available on tens of thousands of startups that have taken Startup Genome's founder survey. 
Key findings:
Founders looking to improve their chances of scaling should offer stock options for all employees, have more than five global connections to top ecosystems, and have at least three advisors.
Early-stage startups with a higher Local Connectedness Index see their revenue grow twice as fast as those with the lower Local Connectedness Index.
Scaleup success rate clearly increases with Global Connectedness, and startups that develop a high level of Global Connectedness have a 3.25x higher chance of scaling than those with a low level.
The U.S., China, and the U.K. are the top countries by number of total scaleups, with 7.1K based in the U.S.— 4.8x more scaleups than in China and 11.5x more than in the U.K.
India, Canada, Germany, Israel, France, South Korea, and Singapore (in order), round out the top 10 countries globally for number of scaleups.
Top countries for VC investment into scaleups are the U.S., China, India, the U.K., and Germany. North America makes up 55% of all global VC investment raised in scaleups, with the U.S. alone contributing 53%. Since 2020, the U.S. has received more VC investment than the rest of the world combined.
Early-stage startups that go global (more than 50% of foreign customers) are on a revenue growth curve that is 2x faster than those that do not.
Out of all current scaleups, a third of all scaleups were founded by serial founders, and founders who have previous hypergrowth experience have an 85% higher scaleup rate compared to founders without this experience. 
Founders' motivation to get rich is the strongest corollary to scaleup success, followed by a desire to change the world.
Founders who could rely on friends for funds were more likely to produce a scaleup than those with their own or family resources.
"The quintessential billion-dollar question has always been what characteristics, behaviors, and decisions of early-stage startups significantly increase your chance of success at scaling," shares JF Gauthier, Founder & CEO of Startup Genome. "Startup Genome's groundbreaking Scaleup Report, a culmination of 11 years of primary research with close to 100,000 startup founders globally, provides unparalleled data-driven answers to this critical question."
View the full report here: https://startupgenome.com/scaleup-report 
Source: Startup Genome
Originally published at https://www.newswire.com/news/the-scaleup-report-dna-of-successful-startups-22128125