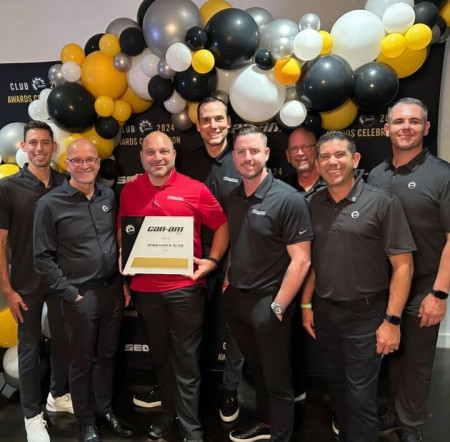 Press Release
•

Aug 30, 2023
Elevating Industry Standards: RideNow Powersports Chandler Celebrates Prestigious Recognition and Commitment to Excellence

CHANDLER, Ariz., August 30, 2023 (Newswire.com)
–
RideNow Powersports Chandler, a standout location within the renowned RideNow Powersports dealership group, is thrilled to announce its recent accolade as the "BRP 2023 National Dealer of the Year" in the U.S. for the prestigious Can-Am® brand.
The distinguished award evaluates dealerships on a myriad of criteria including certification level, market share within the primary market area, retail achievement in comparison to set plans, and growth in Parts, Accessories, and Apparel (PA&A). Notably, RideNow Powersports Chandler emerged at the pinnacle, demonstrating unparalleled excellence in each category.
"The recognition is a testament to our relentless dedication to serving our customers with the very best," said Lyle Kramper, the Sr. VP of National Retail of RideNow Powersports. "It underscores our team's commitment to ensuring a world-class experience at every touchpoint."
Amidst this individual recognition, the larger RideNow Powersports family has further reasons to celebrate. Several of its member dealerships have achieved distinct accolades in specific categories:
3WV District Dealers of the Year: RideNow Powersports Austin and RideNow Powersports Ocala.
ATV/SSV District Dealers of the Year: RideNow Powersports Ocala and RideNow Powersports Chandler.
Sea-Doo District Dealers of the Year: RideNow Powersports Austin, RideNow Powersports Dallas, and RideNow Powersports Chandler.
These accolades underscore the group's comprehensive excellence across various spheres of the powersports industry.
BRP, in its congratulatory letter to the dealership, emphasized the significance of the award, stating, "Being named a National Dealer of the Year is a great accomplishment and is BRP's highest honor for a dealer." They further extended their gratitude to RideNow Powersports Chandler for embodying the brand's values and delivering unparalleled service.
As RideNow Powersports Chandler revels in this monumental achievement, they remain grounded in their mission of continually enhancing their service offerings and setting new benchmarks in the industry.
Source: RideNow Powersports
Originally published at https://www.newswire.com/news/ridenow-powersports-chandler-recognized-as-the-brp-2023-national-22116613