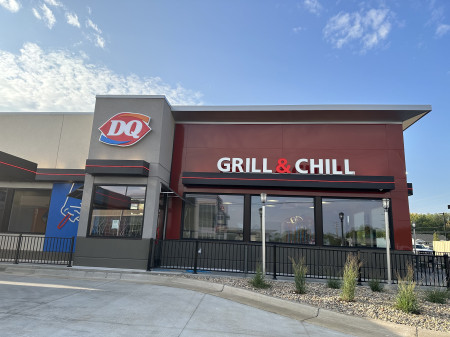 Press Release
•

Sep 12, 2023
Fourteen Foods, led by CEO Matt Frauenshuh, has established its presence in Lafayette, Tennessee, acquiring its next DQ Grill & Chill® franchise location.

SIOUX FALLS, S.D., September 12, 2023 (Newswire.com)
–
Fourteen Foods CEO and visionary leader, Matt Frauenshuh, is proud to announce a major move for the Sioux Falls Dairy Queen franchise location. After years of serving the community from its current store, Matt Frauenshuh and his team are moving to a brand-new, state-of-the-art location that promises an even better experience for its patrons.
Since joining the family business in 2006, Matt Frauenshuh has played an instrumental role in the growth of their DQ Grill & Chill franchise empire. What began with just seven stores has now expanded to an astounding 240+ franchise locations, solidifying its position as the largest DQ Grill & Chill franchise in the nation. Frauenshuh's commitment to excellence and dedication to the community have been the driving forces behind this remarkable journey.
"We're excited to embark on this new chapter in the history of Sioux Falls Dairy Queen," says Frauenshuh. "Our commitment to serving delicious treats and supporting our community remains unwavering. This new location will allow us to continue this tradition while offering an upgraded environment for our valued customers."
The new Sioux Falls Dairy Queen location will offer a modern and inviting atmosphere, enhanced menu options, and the same top-quality service that customers have come to expect. This relocation is part of the Fourteen Foods brand's ongoing mission to provide an enhanced experience for the loyal customers who have made Dairy Queen a cherished staple and valued community partner in the Sioux Falls area.
Matt Frauenshuh joined his family's Dairy Queen franchises in 2006 when the group was comprised of only seven stores. Over the course of 15 years, he expanded their holdings to 240 franchises and became the largest Dairy Queen franchisee. The family business, Fourteen Foods, continues to grow and thrive under his leadership as CEO. He is also Principal for Frauenshuh Inc., which was founded in 2002.
Fourteen Foods was established in 2002 and owns and operates more than 240 DQ Grill & Chill® braziers and restaurants in 13 states. The company is the largest franchisee for the corporation. Matt Frauenshuh joined the family business in 2006 when seven stores comprised the company. Matt now leads the multi-owner company as Chief Executive Officer. Matt received his undergraduate degree in business economics from St. Olaf College and continued at the University of Minnesota's Carlson School of Management, where he received his MBA. 
###
For more information about Fourteen Foods, please visit their website https://fourteenfoods.net/. 
For more information about Matt Frauenshuh, please visit LinkedIn.
XXX
 
Source: Fourteen Foods
Originally published at https://www.newswire.com/news/fourteen-foods-announces-sioux-falls-dairy-queen-move-to-new-location-22122288