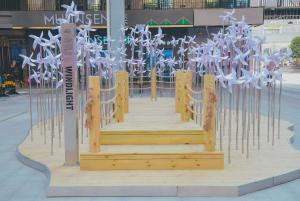 Windlight is a large-scale urban design installation created to demonstrate the power of Sencity's innovative new SencityOS Interactive Content 5G Platform.
NEW YORK, NY, UNITED STATES, August 17, 2023/EINPresswire.com/ — Windlight, a captivating large-scale urban installation, emerges as a testament to the power of Sencity's groundbreaking SencityOS Interactive Content 5G Platform. Designed by the acclaimed Chinese designer Teng Yu, Windlight transforms pathways and urban landscapes into a mesmerizing field of glowing pinwheels, bridging the realms of the virtual and the physical through the art of interaction.
Windlight draws on childhood wonder, inviting pedestrians to engage in a unique experience. The pinwheels, resembling sunflowers, respond to the touch of passersby as if sensing their presence, igniting an enchanting dance of light and interaction.
Teng Yu, the visionary behind Windlight, sought to evoke the joy of discovery inherent in youth. This captivating experience has garnered global attention, gracing over 10 cities worldwide and earning prestigious design accolades, including the 2023 Australian Design Award and the 2022 Sydney Design Award.
PROJECT BRIEF: MERGING MAGIC AND INNOVATION
Teng Yu, the lead designer at Sencity, and his team embraced the challenge of crafting a physical encounter that not only showcases the prowess of the SencityOS 5G platform but also captures the enchantment customers can wield with it. Windlight emerged as a fusion of art and technology, embodying the platform's flexibility and creative potential.
INNOVATION DESIGN AND INTERACTION
Windlight's impact is amplified by dozens of meticulously crafted, 5G-enabled smart sculptures. These larger-than-life pinwheels, adorned with programmable LEDs, handcrafted fins, and silent axles, echo the nostalgia of childhood while embracing cutting-edge technology.
Designed with environmental consciousness in mind, Windlight utilizes low-power components and biodegradable materials, leaving not just a physical mark but an emotional resonance within each observer.
Teng Yu reflected on the project's complexity, stating, "It was a tough project," highlighting the technical challenge of merging captivating light and motion effects that enchant without overwhelming.
ELICITING JOYFUL REACTIONS
Windlight's impact transcends its artistic appeal, evoking profound emotions and eliciting joyful reactions from diverse audiences. One passerby nostalgically remarked, "This installation reminds me of my childhood, bringing back the fun we had." College students praised the immersive experience, while a young child's simple declaration captured the essence: "I love the lights!"
Teng Yu himself finds inspiration in these reactions, sharing, "Seeing people's smiles – from kids to the elderly – encourages me to continue creating playful designs and spreading happiness."
RECOGNIZING EXCELLENCE
The recognition Windlight has garnered speaks to its innovation and impact. Among its notable awards are the 2022 Australian Design Award, the 2023 Sydney Design Award, and the 2023 Wild Design Award.
ABOUT TENG YU
Chinese-born Teng Yu, a multidisciplinary designer based in New York City, brings his visionary creativity to diverse projects. Beyond Windlight, his portfolio includes the interactive public waste receptacle Tetrabin, recipient of the 2018 New York Design Award and the 2020 Gold Edison Award. Yu's dedication to injecting joy into daily lives drives his mission to create interactive and inspiring spaces.
Written by André Orta
Teng Yu
TY Studio
[email protected]
Originally published at https://www.einpresswire.com/article/650361287/urban-enchantment-with-windlight-teng-yu-s-interactive-installation-showcases-sencity-s-5g-vision