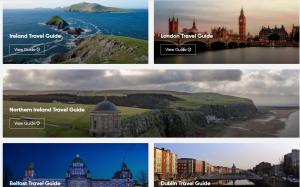 Travel Blog ConnollyCove celebrates new milestones of traffic and viewers as it continues to focus on being the best travel blog and travel video site in the UK
Best Travel Blog is exactly what we are trying to achieve with ConnollyCove blog post and our popular YouTube channel – year on year we keep getting better with feedback from our viewers."
— ConnollyCove
BELFAST, ANTRIM, NORTHERN IRELAND, August 7, 2023/EINPresswire.com/ — ConnollyCove, a renowned travel blog, has become a go-to destination for globetrotters, adventure seekers, and casual tourists alike. With its rich content, engaging visuals, and insightful guides, Connolly Cove serves as a comprehensive resource for travellers exploring various corners of the world. From bustling cities like New York and Paris to exotic locales like Bali and Marrakech, ConnollyCove's extensive coverage offers something for every traveller.
The blog's mission transcends mere travel guidance. It aims to inspire, educate, and connect travellers, fostering a global community bound by wanderlust. With a focus on popular destinations, unique experiences, and responsible travel, ConnollyCove stands out as a beacon for modern-day explorers.
Content and Features of ConnollyCove

Destination Guides – Connolly Cove's destination guides are a treasure trove of information, insights, and inspiration. Covering a wide array of popular destinations, these guides serve as a virtual compass for travellers. Find out what are the cheapest travel destinations or most expensive travel destinations!
Europe

Paris: The city of love and lights, Paris, is a perennial favourite. ConnollyCove's guide to Paris delves into its iconic landmarks like the Eiffel Tower, Louvre Museum, and Notre Dame Cathedral. It also explores hidden gems, local eateries, and cultural nuances that define Parisian charm.

London: From the historic Tower of London to the vibrant streets of Camden Town, London's multifaceted appeal is captured in ConnollyCove's comprehensive guide. It offers tips on navigating the Tube, enjoying a traditional English breakfast, and catching a West End show.

Rome: The eternal city of Rome, with its rich history and vibrant street life, is brought to life in ConnollyCove's guide. It covers must-visit sites like the Colosseum, Vatican City, and Trevi Fountain, along with insights into Italian cuisine and Roman nightlife.

Barcelona: Known for its unique architecture and lively beaches, Barcelona is a city of contrasts. ConnollyCove's guide explores Gaudi's masterpieces, local markets like La Boqueria, and the spirited tradition of tapas and flamenco.

North America

New York City: The city that never sleeps, New York, is a melting pot of cultures, cuisines, and creativity. ConnollyCove's guide to NYC covers iconic spots like Times Square, Central Park, and Broadway, along with hidden treasures in neighbourhoods like SoHo and Williamsburg.

Los Angeles: From Hollywood glamour to laid-back beaches, Los Angeles offers diverse experiences. ConnollyCove's guide explores the Walk of Fame, Universal Studios, Malibu's scenic coastline, and the burgeoning art scene in Downtown LA.

Toronto: A blend of urban sophistication and natural beauty, Toronto's allure is captured in ConnollyCove's guide. It covers the CN Tower, Royal Ontario Museum, vibrant Kensington Market, and nearby natural wonders like Niagara Falls.

Cancun: Known for its stunning beaches and lively nightlife, Cancun is a tropical paradise. ConnollyCove's guide offers tips on enjoying its all-inclusive resorts, exploring Mayan ruins like Chichen Itza, and experiencing local culture and cuisine.

These guides offer more than mere sightseeing tips. They delve into the heart and soul of each destination, offering a local's perspective on what makes each place unique. From practical advice on transportation and accommodation to cultural insights and off-the-beaten-path recommendations, ConnollyCove's destination guides are indispensable companions for travellers.
Travel Inspiration

Connolly Cove's travel inspiration section is a vibrant collection of articles, videos, and personal travel stories that ignite the wanderlust in every reader. It's not just about where to go, but why to go, and what unique experiences await.
Romantic Getaways: For couples seeking a romantic escape, ConnollyCove offers curated lists of the most enchanting destinations. From the canals of Venice to the secluded beaches of the Maldives, these guides inspire love and adventure.

Adventure Trips: For thrill-seekers, ConnollyCove's adventure guides explore destinations that offer adrenaline-pumping activities. Whether it's skydiving in New Zealand or hiking in the Andes, these guides cater to the adventurous spirit.

Family Vacations: Planning a family vacation can be daunting, but ConnollyCove simplifies it with guides to family-friendly destinations. From theme parks in Orlando to educational trips to Washington, D.C., there's something for every family.

These inspirational guides are complemented by personal travel stories and anecdotes from the ConnollyCove team and guest contributors. Readers can vicariously explore remote villages, join in local festivals, and savour exotic cuisines through these engaging narratives.
Travel Videos

In an age where visuals speak louder than words, ConnollyCove's travel videos section offers an immersive experience. These high-quality videos transport viewers to different parts of the world, offering virtual tours, vlogs, and cinematic experiences.
Virtual Tours: Explore the winding streets of Prague or the bustling markets of Bangkok through ConnollyCove's virtual tours. These videos offer a 360-degree view, allowing viewers to explore at their own pace.

Travel Vlogs: Join the ConnollyCove team as they embark on journeys around the world. These vlogs offer a personal and authentic glimpse into various destinations, sharing experiences, tips, and fun moments.

Cinematic Experiences: For those who appreciate the art of filmmaking, ConnollyCove's cinematic travel videos are a visual treat. Stunning landscapes, cultural insights, and artistic storytelling combine to create videos that are both informative and inspiring.

These videos are more than mere entertainment; they are a valuable resource for planning trips, understanding cultures, and finding inspiration for future travels.
Travel Tips and Resources

ConnollyCove's travel tips and resources section is a goldmine of practical advice, reviews, and recommendations. It's designed to assist travellers at every stage of their journey, from planning to execution.
Planning and Budgeting: Find guides on creating travel itineraries, budgeting for trips, choosing the right travel insurance, and more. These resources simplify the planning process, making travel accessible and stress-free.

Packing and Safety: From packing lists for different destinations to safety tips for solo travellers, this section ensures that travellers are well-prepared for their journey.

Travel Gear and Apps: Reviews and recommendations for travel gear, gadgets, and apps help travellers make informed choices. Whether it's the best travel backpack or a must-have travel app, ConnollyCove's insights are valuable.

These practical resources are complemented by information on travel deals, discounts, and partnerships, helping travellers make the most of their budget. Visual Content

ConnollyCove's visual content section is a feast for the eyes, showcasing breathtaking landscapes and unique experiences in popular destinations. The power of imagery is harnessed to provide readers with a vivid sense of place and culture.
High-Quality Photos: ConnollyCove's photo galleries feature stunning images captured by professional photographers and travel enthusiasts. From the majestic peaks of the Swiss Alps to the vibrant colours of India's Holi festival, these photos tell a story beyond words.

Interactive Content: For those seeking a more immersive experience, ConnollyCove offers interactive content such as panoramic views and clickable maps. These features allow readers to explore destinations in a more engaging and hands-on manner.

Collaboration with Artists: ConnollyCove collaborates with photographers and videographers in the travel community, showcasing diverse perspectives and artistic interpretations of travel. These collaborations enrich the visual content, adding depth and creativity.

Impact on the Travel Community

Encouraging Responsible Travel

In an era where responsible travel is gaining prominence, ConnollyCove plays a vital role in promoting sustainable and ethical practices. Their content not only inspires travel but educates readers on how to do so responsibly.
Sustainable Practices: Guides on eco-friendly travel, supporting local communities, and minimising environmental impact are integral to ConnollyCove's mission. They collaborate with eco-friendly brands and initiatives, encouraging readers to make conscious choices.

Cultural Sensitivity: ConnollyCove emphasises the importance of understanding and respecting local cultures and traditions. Their guides include tips on appropriate behaviour, dress codes, and interaction with local communities, fostering a sense of global citizenship.

Building a Travel Community

ConnollyCove's impact extends beyond its website, fostering a vibrant travel community that connects like-minded individuals across the globe.
Engagement with Readers: Through comments, social media, and newsletters, ConnollyCove engages with its readers, creating a dialogue that transcends geographical boundaries.

Hosting Events: Travel meet-ups, webinars, and events hosted by ConnollyCove provide opportunities for travellers to connect, share experiences, and learn from one another.

Featuring Guest Posts: By featuring guest posts from fellow travellers and bloggers, ConnollyCove creates a platform for diverse voices and experiences, enriching the content and building a sense of community.

Supporting Local Businesses

ConnollyCove's commitment to supporting local businesses adds a unique dimension to its impact on the travel community.
Highlighting Local Entrepreneurs: Articles and videos that spotlight local artisans, farmers, and small business owners provide readers with authentic experiences and encourage support for local economies.

Promoting Cultural Experiences: From traditional cooking classes in Italy to craft workshops in Japan, ConnollyCove promotes cultural experiences that connect travellers with local traditions and craftspeople.

Conclusion

ConnollyCove stands as a beacon in the world of travel, offering a comprehensive and thoughtful approach to exploring our diverse planet. With its rich content, engaging visuals, responsible ethos, and community-driven approach, it serves as a virtual compass for modern-day explorers.
Whether you're planning a romantic getaway to Paris, seeking adventure in New Zealand, or exploring local cultures in Southeast Asia, ConnollyCove is your go-to resource. Its commitment to inspiring, educating, and connecting travellers sets it apart as a leader in the travel blogging sphere.
For travellers and explorers, sharing your experiences through blogs and YouTube vlogs lets you immortalize your journeys while engaging fellow adventurers. Whether trekking through remote mountain villages, sampling street food in bustling cities, or lounging on secluded beaches, your trips become virtual expeditions others can partake in. Done right, travel blogs and vlogs not only document your exploits but build audiences who eagerly await your next update. Below we look at how to maximise your content's impact.
Crafting Compelling Travel Blogs

Text-based blogs remain ideal for detailing your travel stories. Follow these tips for creating engaging blogs people love reading:

Choose Descriptive Topics – Each post should focus on a specific activity, destination, experience, discovery, lesson, or observation from your trips. Avoid broad, generic topics and drill down into a precise theme to draw readers in.

Open with Impact – Start posts with a striking opening paragraph that sets the scene. You could describe arriving at the world's most secluded beach, preparing for a demanding mountain trek, or sampling freshly caught seafood at a seaside shack. Strong openings hook readers instantly.

Showcase Visuals – Embed high-quality photos throughout your blogs to showcase destinations and experiences visually. Include a mix of landscapes, food shots, selfies, city scenes, attractions, lodging, and more. Captions add context.

Share Personal Insights – Reveal your genuine thoughts, impressions, and takeaways as you describe your journey. This adds personality that readers find relatable. Reflecting on what you learned makes the experience insightful.

Use Evocative Language – Employ descriptive, sensory language allowing readers to picture themselves right alongside you. Transport them to bustling markets, tranquil temples, and rolling vineyard vistas using vivid imagery.

Discuss Logistics – Practical trip-planning details like transportation, lodging recommendations, packing lists, budgets, itineraries, and insider tips help future travellers recreate your route. This useful content also builds trust.

Close with Purpose – Wrap up each post highlighting why this destination and activity are worth experiencing. Share how it enriched, challenged, or excited you. This motivates others to add it to their own bucket lists.

With practice, you'll find your travel blog voice. Be authentic, thoughtful, and engaging.
Vlogging Your Way Through Adventures

Making the leap to YouTube vlogging opens exciting creative possibilities. Follow these fundamentals for travel vlogs that captivate viewers:

Invest in Good Gear – A capable camera and microphone setup ensures quality footage and audio. Creating professional-looking vlogs requires some initial equipment investments. Prioritise a stabilization gimbal and external mic.

Mix-Up Video Styles – Combine POV walking tours, scenic drone shots, time-lapses, food clips, action cam footage, slow motion effects, and conversational chat sessions. This visual variety keeps vlogs dynamic.

Show Behind the Scenes – Let viewers feel part of the journey by including travel prep scenes, airport footage, best air-lines, packing, transportation, lodging, etc. Shoot candidly whenever possible.

Talk Through Experiences – Narrate what you're seeing, thinking, and doing as scenes unfold. This commentary makes the vlog intimate and personal. Periodically speak directly to viewers.

Mind the Lighting – Proper lighting prevents dark, grainy clips. When filming yourself, face the primary light source and avoid backlighting. For landscapes and scenes, capture at sunrise, sunset, or under soft overcast skies whenever possible.

Simplify Editing – Use basic editing software like iMovie or Premier Rush to splice and arrange clips. Insert smooth transitions between shots. Add music, titles, logos, and basic colour adjustments to tie sequences together. Avoid effects overkill.

Promote Widely – Upload vlogs optimized with engaging titles, descriptions, tags and thumbnails. Promote new videos across your social channels and on relevant travel forums. Interact with commenters.

Consistency Pays Off – Strive for regular upload schedules like weekly vlogs. This trains subscribers to expect new videos frequently. Over time, channel growth accelerates through consistency.

Travelling offers endless blog and vlog inspiration if you remain attuned to the special moments and details on your journey. By sharing your passion for exploration and fully embracing destinations, your readers and viewers become invested in the trip right along with you.
Ready to embark on your next adventure? Visit ConnollyCove's website and explore the world through its insightful guides, stunning visuals, and inspiring videos. Subscribe to their newsletter for regular updates and join their travel community on social media. Your journey starts with ConnollyCove – let them guide you to the destinations of your dreams.
Ciaran Connolly
ConnollyCove
+44 28 95680364
email us here
Visit us on social media:
Facebook
Twitter
LinkedIn
Instagram
YouTube
Northern Ireland – Some great places to visit in Northern Ireland – Places to see, visit and stay! Travel Video and Travel Blog


Originally published at https://www.einpresswire.com/article/648399548/travel-blog-reaches-new-hights-with-travel-videos-and-social-media