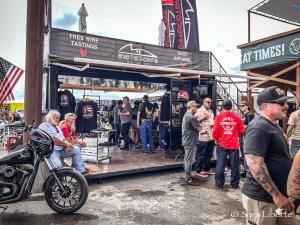 Doffo Winery's Wine & Moto Activation at the Sturgis Buffalo Chip (Credit: Sara Liberte/Doffo Winery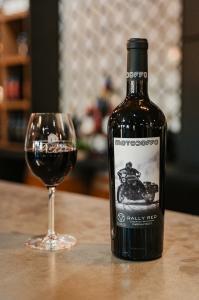 Doffo Winery's Limited Edition Rally Red (Credit: Doffo Winery)
L to R: Damian Doffo, Brigitte Doffo, Maria Doffo, Marcelo Doffo, Tim Sutherland, Lloyd Greer, and Samantha Doffo. (Credit: Sara Liberte/Doffo Winery).
Through creative partnerships with the Sturgis Buffalo Chip, this SoCal winery hopes to turn the $105+ billion global motorcycle market into wine enthusiasts
We are excited to continue to find unique ways to blend our twin passions of wine and motorcycles and bring consumers of both along for the ride – responsibly, of course."
— Damian Doffo, CEO and Winemaker, Doffo Winery
TEMECULA, CA, USA, August 11, 2023/EINPresswire.com/ — Step aside, wine and cheese; there's a new pairing in town: Wine and motorcycles. Doffo Winery, the Temecula Valley winery known for their premium wines, on-site vintage motorcycle collection, and unique wine experiences, is officially doubling down on their efforts to cultivate new wine consumers through their unexpected partnerships and new initiatives in the moto space. Acorn Woods Communications, Doffo's agency of record, is working closely with the Southern California winery to bring their vision to life.
"We enjoy wine as part of all sorts of different lifestyles," said Doffo CEO and winemaker Damian Doffo. "The motorcycle community has always embraced us not only for our dedication to the moto world, but also for our wines, and there is an immense opportunity to reach potential new wine lovers in non-traditional industries if you are willing to get a little creative. We are excited to continue to find unique ways to blend our twin passions of wine and motorcycles and bring consumers of both along for the ride – responsibly, of course."
Doffo's MotoDoffo division – a line of red and white wine blends from Temecula Valley with labels that feature original artwork from different motorsports-focused artists each year – is at the heart of several exciting partnerships this year, including:
Sturgis Buffalo Chip

Doffo Winery is currently knee-deep in the Sturgis Motorcycle Rally, taking place from August 4 – 13 in South Dakota, where they are the official wine provider of the Sturgis Buffalo Chip – the premier attraction of the rally. Now in its 83rd year, the event is the world's largest motorcycle rally, attracting more than 500,000 people annually. In addition to providing signature wines and wine activations throughout the event, the Doffo family, including founder and patriarch Marcelo Doffo, daughters Samantha and Brigitte, and son Damian, are also riding in the event and sharing tastings at the "Motorcycles as Art" exhibit and industry party.
In collaboration with the Sturgis Buffalo Chip, MotoDoffo released the limited-edition "Rally Red," a 100% cabernet sauvignon from the Temecula Valley AVA. Only 1500 bottles of the wine were produced, and each numbered bottle offers a quote from Buffalo Chip founder Rod "Woody" Woodruff that says, "Ride free. Take risks. You deserve the best."
Scott Jacobs Gallery Partnership

The Doffo family has partnered with renowned motorcycle artist Scott Jacobs to create wine experiences for visitors to the downtown Deadwood, South Dakota gallery during the motorcycle rally. Scott Jacobs was the first officially licensed Harley-Davidson artist and has created many iconic depictions of the motorcycle brand as well as name brand wines, mirroring Doffo's commitment to wine, art, and motorcycles.
"As a moto and wine focused digital marketing agency, we are uniquely positioned to help Doffo realize their goal of penetrating not just the dynamic motorcycle market, but also introduce this community to their wines," said Ron Benfield, president of Acorn Woods Communications. "It has been so rewarding to see the impact of strategic partnerships like the one with the Sturgis Buffalo Chip in capturing the attention of a totally new segment of potential wine consumers."
About MotoDoffo Wines:

What began with founder Marcelo Doffo's vintage motorcycle collection has evolved into a line of moto-inspired wines and lifestyle apparel located at Doffo Winery in Temecula, California. MotoDoffo Wines produces limited quantities of several unique wine blends throughout the year, with MotoDoffo Wine Club members receiving priority access and special pricing. Each year, MotoDoffo curates original artwork from a motorsports-focused artist to feature on their iconic wine labels, bringing together the Doffo Family's passions for wine, art and moto. Tastings and tours are available at the winery, where guests can also see some stunning examples of rare and unique motorcycles and scooters from the Doffo Family's collection.
About the Sturgis Buffalo Chip

The Sturgis Buffalo Chip® is the award-winning leader in music and motorcycle lifestyle experiences. Hailed as The Largest Music Festival in Motorcycling® and The Best Party Anywhere®, it has been the epicenter of the annual Sturgis Motorcycle Rally since its establishment in 1981. Every August, the Buffalo Chip brings together the world's largest gathering of music and motorcycle fans, with visitors from all 50 states and over 20 countries. It remains one of the world's most televised and longest-running independent music festivals. The Chip advances the Sturgis Rally by being home to the Sturgis Rally Information Center and the official sponsor of the Sturgis.com Official Sturgis Rally Registration Program. More details are available at BuffaloChip.com
###
Devin Parr
Devin Parr & Associates
[email protected]
Originally published at https://www.einpresswire.com/article/649455999/temecula-valley-s-doffo-winery-sets-new-standard-for-introducing-wine-to-unexpected-audiences