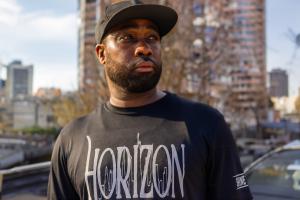 The New Jersey Native performed at the August 10th event celebrating 50 years of Hip Hop music.
TAMPA, FL, USA, August 11, 2023/EINPresswire.com/ — August 10th marks an incredible evening for Hip Hop music, and the Tampa music scene. On this night, Tampa Hip Hop artist, Horizon, performed at the Unity Jam in Ybor City, FL on behalf of 88.5WMNF and in dedication to Shock G from Digital Underground.
Horizon, a New Jersey native, is a heart-felt Hip Hop artist whose creative lyrical cadence and unique boom bap sound is quickly gaining recognition in the Tampa and Central Florida area. He began his music career in the late 80's – early 90's by listening to other artists, testing out instruments, and watching music videos. It was through these experiences that he developed a love for Hip Hop music and started writing his own rhymes, and recording using instrumentals and tape decks.
He recently made his introduction as an independent artist with the motivating song "Shine Beyond" and has since released another powerful vibe "Season" through Tampa, FL based Illsboro Records. His latest song, available now on all major platforms, has been met with positive reviews in the video comments.
The Horizon show at the Unity Jam on August 10th was an amazing event as he delivered a powerful performance celebrating 50 years of Hip Hop music. Fans of Hip Hop heard a mix of music that speaks of sacrifice, love, motivation, and overcoming challenges. Horizon has plans for another single release, "Organic", that is sure to have heads nodding in appreciation of Hip Hop.
For more information, please visit https://www.instagram.com/horizontheartist/.
Troy Legette
Horizon
email us here


Originally published at https://www.einpresswire.com/article/649462595/tampa-s-finest-hip-hop-phenom-horizon-takes-center-stage-at-unity-jam-honoring-shock-g-of-digital-underground