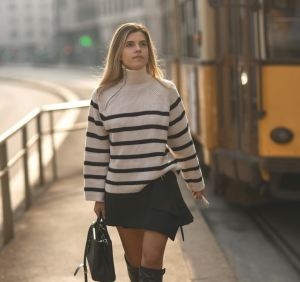 NEW YORK, NEW YORK, USA, May 31, 2023/EINPresswire.com/ — Senstylable, a platform that has amassed nearly 2 million followers on Instagram alone, is celebrating its upcoming decade milestone with pride. Founded by digital entrepreneur Reita Hackaj, this empowering digital space has not only assisted brands in expanding their global reach but has also fostered a worldwide community where women can connect and access the best style guides.
The media landscape has experienced significant transformations over the past ten years, and Senstylable has been at the forefront of these changes. Reflecting on the platform's origins, Reita explains that the driving force behind its inception was a desire to disrupt the status quo. Initially conceived as a space for personal self-expression and a daily source of outfit inspiration, Senstylable quickly emerged as a trailblazer in the digital influencing industry, challenging the dominance of traditional fashion magazines.
Throughout its journey, Senstylable has maintained its commitment to fostering an inclusive community where women can find inspiration and discover new brands. This unique positioning has garnered the platform a loyal following, establishing it as one of the most popular destinations long before the explosion of social media. While staying true to its core purpose, Senstylable has evolved to cater to the needs of modern millennial women, establishing itself as a relatable and empowering community. Emphasizing visual storytelling, Senstylable encourages women to embrace their authenticity and celebrate their individuality.
Recognizing the power of its platform, Senstylable has become a go-to choice for brands that share its values, seeking to connect with customers in a genuine and meaningful way. With over 100 million monthly impressions, Senstylable has facilitated more than 300 successful brand partnerships, including collaborations with renowned companies. Furthermore, the platform has built an extensive network of over 5,000 influencers and content creators spanning the globe.
Advertising on Senstylable offers brands a targeted approach, ensuring they reach a specific demographic of consumers who are actively seeking new products. Unlike a billboard in Times Square, which may capture fleeting attention from passersby, advertising on Senstylable provides brands with precise information about the age, location, and intent of the audience they are reaching.
As Senstylable approaches its milestone decade, it continues to redefine the media landscape, amplifying the voices of women and providing a dynamic platform for brand engagement. Through its unwavering dedication to inclusivity, authentic storytelling, and strategic partnerships, Senstylable has elevated itself to new heights, leaving an indelible mark on the media industry. With its strong community and commitment to empowering women, Senstylable is poised to shape the future of media and inspire women around the world to embrace their unique style and voice.
Reita Hackaj
Senstylable
+1 (773) 595-9945
email us here


Originally published at https://www.einpresswire.com/article/636866640/reita-hackaj-empowering-women-redefining-media-and-celebrating-a-decade-of-success-with-senstylable