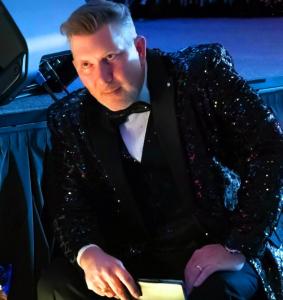 David L Cook and Skip Martin Wait to Hear Results for Their Two 2023 Emmy Award Nominations
NASHVILLE, TENNESSEE, UNITED STATES, May 31, 2023/EINPresswire.com/ — David L Cook and Skip Martin are no strangers to industry accolades. Cook is a seven-time Emmy Award winner and Martin, the lead singer of Kool and the Gang earned a Grammy Award with the vocal group, The Dazz Band. Both artists are excited to work with each other on such a wonderful project. Martin, revamped the old Curtis Mayfield anthem, "People Get Ready" and arranged it in such a way that 29 various legends lent their voices and talents to the project that would benefit St. Jude Children Hospital (Atlanta Division.)
Cook is quoted as saying, "I am honored to have been asked by Skip to participate in such a worthy cause. Children are our future and with everything that they face today, they don't need to face issues that should be resolved by adults. Children shouldn't care about anything but growing up, playing and knowing they are loved. This project gives us the opportunity to lend our voices and talents to giving them a head start towards those goals."
Cook, grew up in the entertainment industry and has always had his hand in various charities. His industry credits are very impressive if you can find out all of the ghost names and pseudonyms he has recorded under. He has been attacked multiple times in the media for not revealing that information, however, he chooses to keep a tight lip and has started recorded under his given name a lot more often these days. "I like the idea of recording under my own name because it gives a lot more validation, yet, I enjoy recording under my various other names as well and watching people's faces when we sing karaoke or sing along in the car and they always say I sound just like the person who did the song." Cook recorded under various names in an effort to cause no damage to his family's religious heritage. Cook continues to record and is currently the president of the Artists Music Guild which is a non-profit that helps bring music awareness and appreciation to schools whose arts programs have been cut or greatly reduced due to funding. "We bring legends like Chubby Checker, Dee Dee Sharp, The Coasters, Marilyn McCoo and so many more together to help us educate these kids. They need to know these legends and realize we wouldn't have the artists today if we didn't have these artists of yesterday to pave the road," said Cook. Cook also owns Life and Legacy Funeral Home in Indian Trail, North Carolina, which is known for its community outreach programs and charitable works within the community.
Martin's claim to fame is being the lead vocalist of the iconic, Kool and the Gang as well as the Dazz Band of which he won a Grammy while with the group. Martin's voice is unmistakable on songs such as Celebration, Get Down On It, Too Hot and Ladies Night. But away from the microphone Martin is also a very accomplished horn player. He has lent his talent to a great deal of fellow artist's projects as well as his own. This project is very close to Martin's heart because of his love for children and having a way to give back to them for all the joy they bring to us. "I am honored that 29 of my dearest friends agreed to help me in this mission. Especially David who I know has a passion for children as well."
The project has garnered two Emmy nominations for 2023 in the categories of Best Audio Production and Best Arrangement/Composition.
The production showcases the legendary talents of artists such as, Stevie Wonder, Taylor Dayne, Ray Parker Jr. Neal McCoy, Az Yet, Jazz Band, Royal Bayyan, Robert Kool Bell, Maxi B, Reggie Calloway, Kevin Chalfant, Jan Chan, Darcus, John Elefante, Doug E Fresh, Howard Hewett, John P Dee, Stefan Meier, Steph Payne, CeCe Peniston, Tom Schuman, Tony Terry and Alyson Williams.
Randall Pinkston
Carrier Entertainment
email us here


Originally published at https://www.einpresswire.com/article/636764812/recording-artists-david-l-cook-and-skip-martin-land-two-emmy-nominations-for-2023