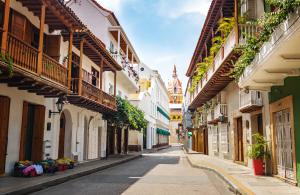 We've met the goals required by our client and designed this site to be beautiful and easy to navigate. We're excited to bring travelers a fresh and clean user experience."
— Luis Velasquez
CARTAGENA DE INDIAS, BOLIVAR, COLOMBIA, August 25, 2023/EINPresswire.com/ — Today marks a monumental milestone in the world of travel and tourism as renowned businesswoman and Journalist María José De León proudly unveils www.mjexclusiveconcierge.net, a groundbreaking platform designed to redefine luxury travel experiences in the captivating city of Cartagena, Colombia.
María José De León, the CEO and Founder of MJ Exclusive Concierge has the vision to transform the way travelers explore and embrace the rich cultural tapestry of Cartagena de Indias. With a deep-rooted passion for travel and an unrelenting commitment to excellence, De León is poised to revolutionize the industry by providing travelers with unparalleled access to bespoke services and immersive journeys that leave an indelible mark on their hearts and minds.
"Cartagena de Indias is not just a destination; it's an emotion waiting to be felt, a story waiting to be told," says María José De León. "With MJ Exclusive Concierge, we are curating experiences that go beyond the ordinary and venture into the extraordinary. Through www.mjexclusiveconcierge.net, we aim to bridge dreams and reality, connecting travelers with Cartagena's soul in previously unimagined ways."
MJ Exclusive Concierge is dedicated to giving back to the local community and fostering sustainable tourism practices that positively impact Cartagena and its residents.
MJ Exclusive Concierge's slogan – "We plan. You chill.", is about keeping its lifetime promise to do what it takes to meet travelers' needs and provide the best customer service, catalyzing meaningful connections between travelers and the city's vibrant culture.
LV Branding, a reputable Branding and Marketing Agency in Houston, Texas, was responsible for the Communication Strategy and User Experience Design for the MJ Exclusive Concierge's new website. "We've met the goals required by our client and designed this site to be beautiful and easy to navigate. We're excited to bring travelers a fresh and clean user experience," said Luis Velasquez, Marketing Strategist, Branding Specialist, and CEO at LV Branding.
The platform offers a communication bridge between the traveler and the MJ Exclusive Concierge specialists, including tailored Experiences. It immerses them in Cartagena's history, art, and cuisine with personalized itineraries crafted to suit their preferences and interests. Unmatched experience under the accompaniment, advice, and knowledge of local experts passionate about showing the best of Cartagena. Exclusive access to hidden gems, private tours, and off-the-beaten-path experiences that reveal the city's authentic essence. Seamless Planning with a stress-free journey and concierge services, ensuring every aspect of each trip is handled carefully.
With the launch of www.mjexclusiveconcierge.net, Cartagena's tourism industry is poised to rejuvenate. As the global travel landscape evolves, María José De León's vision takes center stage, highlighting the significance of a fresh and innovative approach to exploring one of Colombia's most enchanting cities.
Embark MJ Exclusive Concierge and be part of a new travel chapter that unlocks Cartagena's luxurious heart. For more information, visit www.mjexclusiveconcierge.net. Subscribe and follow them on social media @MJExclusiveConcierge on Instagram.
Maria Jose De Leon
MJ Exclusive Concierge
+57 304 2347454
[email protected]
Originally published at https://www.einpresswire.com/article/651983257/mj-exclusive-concierge-the-luxury-tourism-company-in-cartagena-is-launching-its-new-website