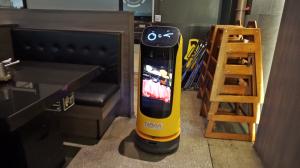 Navia Robotics Logo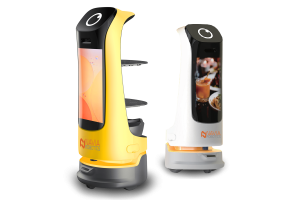 Kettybot Restaurant Robot
Master Kim's Las Vegas deploys restaurant service robot "Kettybot" from Navia Robotics to welcome guests at their Las Vegas Strip location.
LAS VEGAS, NEVADA, UNITED STATES, May 23, 2023/EINPresswire.com/ — Navia Robotics, a robotics company headquartered in Los Angeles, California, is at the forefront of deploying and installing restaurant robots and cleaning robots in the restaurant, food service, resort, and hospitality industries. With extensive experience working closely with restaurateurs and deep involvement in the food service sector, they have consistently received praise for delivering exceptional customer satisfaction.
Master Kim's Las Vegas is a popular spot in Las Vegas for those looking to satisfy their craving for Korean BBQ. With so many guests lining up for dining, Master Kim's was looking for a solution to ensure their guests can be attended to in a timely manner. That's when they brought in Navia Robotics and their restaurant service robot, "Kettybot" to come take the burden off their welcoming staff.
The peak hours would have receptionists constantly occupied guiding patrons to their seats, leaving the front entrance unattended. The traditional solution involved hiring additional hosts dedicated solely to seating guests. However, this approach necessitated expanding the front desk to accommodate the extra staff, and it posed the problem of underutilization during off-peak hours. A more straightforward solution emerged: deploying a robot to handle the repetitive task of escorting guests to their seats. Previously, receptionists would briefly leave the front desk to traverse the long distance from the entrance to the dining area. But now, they can warmly greet guests and direct them to follow the robot, thereby saving time and effort throughout their shifts.
By utilizing Navia Robotics' cloud system, which logs usage statistics of the robots, it was discovered that, on average, the robot seated guests over 90 times a day and nearly 160 times a day on typical weekends. The Kettybot covered a distance of at least a mile, if not more than two miles, each day to seat guests. This significant reduction in workload for the receptionist allowed them to promptly attend to guest service needs and not wear out the receptionists during their shift.
The benefits of this solution extend beyond the evident cost savings, with a payback period of less than a year. Having a staff member available at the front desk at all times holds immeasurable value. Recent surveys have shown that 51% of restaurant guests will never return after a negative experience, and the absence of a greeter upon entering the establishment is the primary way to lose a customer. Furthermore, as more customers opt for online food ordering, receptionists are often tasked with managing those orders and handling incoming phone calls. By delegating some of these responsibilities to robots, the receptionists' time is freed up, resulting in substantial benefits for any restaurant.
With a steadfast dedication to research and development, Navia Robotics is at the forefront of the industry, pioneering groundbreaking features and patent-pending capabilities. Their commitment to innovation sets them apart. They have successfully deployed their robots in numerous establishments, serving hundreds of thousands of restaurant patrons each month across the United States. For restaurant, resort, hotel, and hospital owners interested in integrating robots into their establishments, Navia Robotics offers the opportunity for a no-obligation trial.
About Navia Robotics
Navia Robotics is a robotics development company that possesses vast expertise in both automation hardware and software. With a deep understanding of the inefficiencies prevalent in the food service and hospitality industry, both pre and during the COVID-19 pandemic, Navia Robotics collaborated closely with numerous restaurants operating under diverse models and located in different geographical areas and serving a variety of cuisines. This allowed them to meticulously refine their service to support the market's needs.
David Park
Navia Robotics
+1 877-876-2687
email us here
Visit us on social media:
Facebook
Instagram
YouTube
Watch Kettybot take guests to their table at Master Kim's Korean BBQ!


Originally published at https://www.einpresswire.com/article/635238061/master-kim-s-restaurant-to-use-restaurant-robot-kettybot-to-welcome-guests