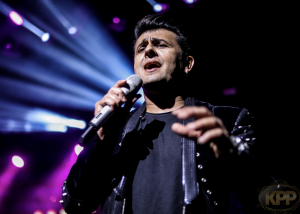 Experience the mesmerizing live performance of Sonu Nigam at Hard Rock Live, Fort Lauderdale, brought to you by Kash Patel Productions.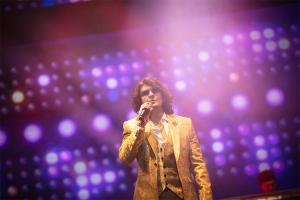 Sonu Nigam is a legendary playback singer, widely regarded as one of the most prominent voices in the Indian music industry. With his mesmerizing vocals and chart-topping hits spanning over three decades, he continues to captivate audiences worldwide.
Sonu Nigam, an iconic Indian playback singer known for his Bollywood music hits, heads out this Fall on his US Tour featuring live concerts of his Indian film music. Tickets on sale now.
Some of my most memorable performances have been in the U.S., so this time, we have prepared something very special"
— Sonu Nigam
FORT LAUDERDALE, FL, UNITED STATES, August 7, 2023/EINPresswire.com/ — Celebrated as one of India's musical treasures, Sonu Nigam, the renowned singer with an extraordinary legacy, is embarking on a momentous journey in the U.S. with his highly anticipated world tour, "The Sonu Nigam Show." The tour commences on August 11th, 2023, with a huge kick-off at Hard Rock Live in Hollywood, FL. The tour has already garnered unprecedented global enthusiasm, with sold-out shows in numerous locations around the world.
For Sonu Nigam, performing live on stage holds a profound significance. "I truly love performing for my American fans, so it is an honor to return once again to the United States," says Sonu Nigam. "Some of my most memorable performances have been in the U.S., so this time, we have prepared something very special that we know everyone will enjoy."
Backed by a world-class band and enriched with cutting-edge audiovisual technology, Sonu Nigam's performance promises to be an immersive sensory delight, taking the audience on an emotional musical odyssey. Prepare to be enchanted by a symphony of emotions as he showcases chart-topping hits and heartfelt ballads that have resonated with audiences for over three decades, leaving an indelible mark in the hearts of music lovers worldwide.
"We take immense pride in presenting Sonu Nigam, a true legend in the music industry, for this exclusive US performance," says Rishi Kejriwal, Talent Coordinator for Shri Balaji Entertainment. "His magnetic stage presence and soul-stirring voice will surely create an unforgettable evening of musical brilliance."
"The Sonu Nigam Show" U.S. Tour Dates & Cities:
August 11 – Fort Lauderdale, FL – Hard Rock Live

August 18 – Dallas, TX – Curtis Culwell Center

August 19 – Chicago, IL – NOW Arena

August 25 – Atlanta, GA – Gas South Arena

August 27 – Toronto, Canada – FirstOntario Center

August 26 – Atlantic City, NJ – Hard Rock Live

September 1 – Washington, DC – EagleBank Arena

September 2- San Francisco, CA – Oakland Arena

September 8 – Los Angeles, CA – Long Beach Arena
Tickets for the "The Sonu Nigam Show" are now on sale and can be purchased at https://sonunigamtourusa.com/.
About Sonu Nigam

Sonu Nigam is a legendary playback singer hailing from India, known for his mesmerizing voice and captivating stage presence. With a career spanning over three decades, Sonu Nigam has established himself as one of the most celebrated and versatile artists in the music industry. Renowned for his soul-stirring vocals and ability to effortlessly traverse various genres, he has garnered numerous accolades, including multiple Filmfare Awards, National Film Awards, and Screen Awards.
His vast repertoire of chart-topping hits and passionate ballads has touched the hearts of millions worldwide. From soulful melodies to high-energy performances, Sonu Nigam's live shows are an enchanting experience, where he takes music lovers on an unforgettable musical journey. Whether performing his soul-stirring playback renditions in Bollywood or exploring independent music ventures, his talent knows no bounds. With an innate ability to connect with his audience, Sonu Nigam continues to inspire and entertain, spreading joy through his music.
About Shri Balaji Entertainment, Inc (SBE)

With its operations in the USA, Canada, and India, Shri Balaji Entertainment has been enthralling the South East Asian community worldwide by bringing live entertainment from the shining stars of the Bollywood fraternity. These sizzling concerts feature the biggest onstage Bollywood performers (singers, actors, musicians, stand-up comedians etc). With multiple live concerts every year, Shri Balaji Entertainment hopes to be the bridge to connect and bring you a taste of home year after year. To follow along with SBE, please visit http://balajientertainment.com/.
###
Joelle Polisky
Round Table Marketing Group
email us here
Visit us on social media:
Facebook
LinkedIn
Instagram
YouTube
Sonu Nigam's Unforgettable Bollywood Melodies Come to Life On Stage in his Live Concert Touring the United States in August 2023.


Originally published at https://www.einpresswire.com/article/648418094/india-s-musical-maestro-sonu-nigam-embarks-on-a-spectacular-u-s-tour