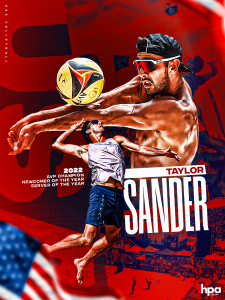 One of the World's best beach volleyball players Taylor Sander signs with HPA Talent
His transition to the beach circuit has been insane. Last year's AVP Championship, Server of the Year and Newcomer of the Year titles shows the trajectory his talent can take him"
— Paris D'Jon
HUNTINGTON, CALIFORNIA, UNITED STATES, August 2, 2023/EINPresswire.com/ — HPA Talent, a leading sports management agency, is thrilled to announce the signing of professional beach volleyball player Taylor Sander to their esteemed roster of athletes. This strategic collaboration marks a momentous milestone for both HPA Talent and Taylor Sander, as they join forces to achieve new heights in the world of professional beach volleyball.
Taylor Sander started his passion for volleyball on the beach growing up in Huntington, California. The two-time indoor Olympian and bronze medal winner is widely recognized as one of the world's top passers and hitters who brings a wealth of talent and experience to the HPA Talent family. As a former 4X collegiate All-American with numerous awards as a standout indoor player he joined forces with one of the best beach players in the world Taylor Crabb.
Commenting on the exciting partnership, HPA Talent's CEO, Paris D'Jon, said, "We are absolutely thrilled to welcome Taylor Sander to our roster of exceptional athletes. Taylor's relentless pursuit of excellence on the court and his commitment to pushing the boundaries of his sport align perfectly with HPA Talent's values. We are confident that Taylor's addition will further solidify our position as a prominent force in the sports entertainment management industry."
Taylor Sander's accomplishments speak volumes. "His transition to the beach circuit has been insane. Last year's AVP Championship, Server of the Year and Newcomer of the Year titles shows the trajectory his talent can take him says D'Jon."
"I am thrilled to be joining HPA Talent," said Taylor Sander. "Their reputation for supporting athletes and fostering an environment that promotes growth and success is exceptional. I believe that together, we can achieve great things and continue to elevate the sport of beach volleyball on a global stage."
HPA Talent is renowned for its hands-on approach to athlete representation, providing tailored solutions, and facilitating opportunities for its athletes' personal and professional growth. The addition of Taylor Sander to their roster reinforces their commitment to nurturing exceptional talent and fostering long-lasting partnerships.
With this exciting collaboration, HPA Talent aims to leverage its extensive network and expertise to enhance Taylor Sander's career trajectory, while also amplifying the sport's popularity and inspiring aspiring athletes around the world.
For media inquiries, please contact: Jenni Fence, Sr VP of Marketing – [email protected]
About HPA Talent:
HPA Talent is a leading entertainment management agency that represents elite athletes, celebrities, influencers and more across various disciplines. With a strong track record of success, HPA Talent is committed to providing personalized solutions and empowering their talent to achieve their highest potential. The agency's dedication to excellence and innovation has earned it the reputation of being one of the most sought-after entertainment management firms globally.
For more information about HPA Talent, please visit www.hpatalent.com
Jenni Fence
HPA Talent
+1 9173017914
[email protected]
Visit us on social media:
Twitter
Instagram


Originally published at https://www.einpresswire.com/article/647550989/hpa-talent-signs-pro-beach-volleyball-star-taylor-sander-elevating-their-sports-roster-to-new-heights