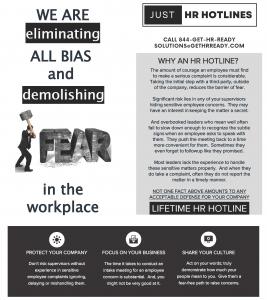 We help every business in America Get HR Ready

JustHRhotlines and GetHRready continue to revolutionize the HR industry
Prove how much you value your employees by giving them a Fear-Free path to raise workplace concerns
Morgenfruh went on to share, "We are crushing the fear employees have of making a report by eliminating the need to approach a member of management which can be so intimidating.""
— Mark K. Morgenfruh, CEO and Founder
COGAN STATION, PA, UNITED STATES, September 5, 2023/EINPresswire.com/ — GetHRready and JustHRhotlines continue our track record of bringing revolutionary Human Resources services to every business in America. We remain dedicated to making it easy for every company in America to access effective, efficient and affordable Human Resources solutions that help them GetHRready.
Through our strategic partnerships, GetHRready launched the LifeTime HR Handbook from JustHRhandbooks. Now we intend to eliminate all barriers when employees need to bring serious and sensitive concerns to the attention of the companies they work for.
JustHRhotlines has launched its Lifetime HR Hotline service that eliminates all conscious and unconscious bias when employees want to bring forth concerns to their employer.
"Why would a business risk mishandling employee concerns, making inexperienced supervisors responsible for recognizing the signs from the employee, perhaps delaying the meeting, not knowing what questions to ask and what NOT to ask, and being responsible for making a painfully detailed and accurate record of the meeting while simultaneously being sincere in listening to the employee," shared Mark Morgenfruh, CEO and Founder.
As a trusted advisor, JustHRhotlines immediately takes the phone call on behalf of our clients, gathers information in an unbiased manner, follows an intake process written by an HR Practitioner of more than thirty years' experience, offers the employee complete anonymity and the ability to call back for updates, uploads the report to a secured portal and provides email notifications to the client's authorized individuals instantly after the call is concluded.
Morgenfruh went on to share, "We are crushing the fear employees have of making a report by eliminating the need to approach a member of management which can be so intimidating, along with the bias every internal supervisor unintentionally brings to the complaint process."
Increasing transparency and candor, eliminating supervisor bias and the risk a complaint is minimized or even ignored, taking immediate action in documenting the issue, saving our clients the time it takes to conduct this activity internally, by individuals who introduce more risk than benefit by mishandling the situation, and ensuring our clients have instantly-actionable data are many of the benefits to this unique service.
Business leaders often think they don't want to know about these things. But failing to create an environment of openness by encouraging truthful reporting hurts the company in terms of cultural reputation, the ability to attract and retain key talent, lower productivity and higher costs from a disengaged workforce, and substantial risks by not learning about and correcting actions that can place the organization in significant legal peril.
GetHRready, and its JustHR partners, create lasting relationships leaving our valued clients stronger, smarter and better-equipped to handle HR Compliance requirements. When the work products from the JustHR companies uncover gaps and risks, the unrivaled and exceptional knowledge of their partnership with HR4ALL is available to help mitigate that exposure.
Mark K Morgenfruh
GetHRready
+1 570-592-0518
[email protected]
Visit us on social media:
LinkedIn
Other
Originally published at https://www.einpresswire.com/article/652509724/gethrready-and-justhrhotlines-eliminate-all-bias-and-fear-when-employees-need-to-raise-concerns-in-the-workplace