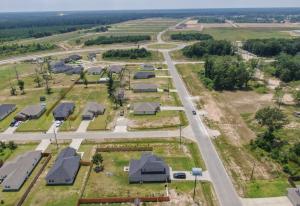 Colony Ridge Communities passionately upholds the dream of affordable housing for all, embracing every soul in our community.
First Liberty Bank Expands: Colony Ridge Welcomes Banking & Employment Boost.
HOUSTON, TEXAS, UNITED STATES, August 25, 2023/EINPresswire.com/ — In an exciting development for the residents of Colony Ridge, First Liberty Bank announced its plans to open a new branch in the heart of the community. The new branch is a testament to the bank's commitment to expanding its reach and bringing its top-tier banking services and financial solutions closer to its customers.
First Liberty Bank Sets Its Sights on Colony Ridge: Bridging the Gap in Financial Services
Colony Ridge, celebrated for its distinctive offering of affordable properties for housing and complemented by the recent additions of new schools, sprawling green spaces, and a plethora of urban amenities, has sensed a gap without a dedicated financial partner. In response to this community desire, First Liberty Bank has unveiled its robust plan to establish its presence in this burgeoning community.
The bank's decision aligns perfectly with the community's rising desire for expanded banking and financial offerings. With the new branch soon to grace Colony Ridge, residents will not only find a financial partner in their vicinity but will also benefit from an array of services encompassing personal banking, loans, business solutions, and bespoke investment advisories.
The community's unique mix of affordable housing options, educational institutions, and recreational spaces has attracted a vibrant mix of residents, all of whom will soon be able to enjoy the bank's offerings right at their doorstep. The announcement underpins First Liberty Bank's unwavering commitment to integrating itself into the fabric of growing communities and offering them indispensable financial services.
Job Opportunities on the Horizon
The new branch is not just about bringing banking services closer to the people; it's also about giving back to the community. First Liberty Bank has already begun the hiring process for the new branch, aiming to source as many employees as possible from within Colony Ridge. This is expected to provide a significant boost to local employment and foster a strong connection between the bank and the community it serves.
Commitment to Community Growth
Beyond the immediate financial services, First Liberty Bank is known for its community programs, financial literacy workshops, and small business seminars. Residents of Colony Ridge can soon expect a slew of such events tailored for their needs.
Moreover, First Liberty Bank also has a track record of partnering with local schools, NGOs, and community centers to promote financial education and awareness. With the new branch, such collaborations are only expected to increase.
In Anticipation of the Grand Opening
Residents are eagerly awaiting the inauguration date, already marking their calendars for the grand opening offers and events. The bank promises a seamless banking experience combined with the warmth of familiar faces from the community.
First Liberty Bank's move to open a branch in Colony Ridge reinforces its position as a community-focused institution, ready to invest in the places its customers call home. As Colony Ridge continues its trajectory of growth and development, the new branch is set to become a cornerstone of the community's financial landscape.
Related articles:
First Liberty Bank announces plans to open new branch in Colony Ridge community

https://bluebonnetnews.com/2023/08/24/first-liberty-bank-announces-plans-to-open-new-branch-in-colony-ridge-community/
Colony Ridge: Ribbon-Cutting Ceremony of ILTexas MSG Ramirez K8: A Tribute to Leadership and Multilingual Excellence

https://education.einnews.com/pr_news/651189813/colony-ridge-ribbon-cutting-ceremony-of-iltexas-msg-ramirez-k8-a-tribute-to-leadership-and-multilingual-excellence
2020 Census reflects significant population growth in Liberty County

https://bluebonnetnews.com/2021/08/23/2020-census-reflects-significant-population-growth-in-liberty-county/
Marketing Department
Terrenos Houston
+ +1 7137145900
email us here
Visit us on social media:
Facebook
Twitter
LinkedIn
YouTube
TikTok


Originally published at https://www.einpresswire.com/article/652023101/first-liberty-bank-to-open-new-branch-in-colony-ridge-a-boost-for-local-services-and-employment