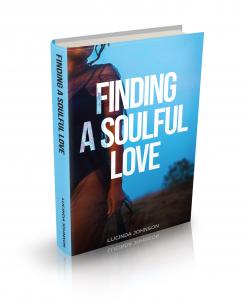 The love-filled author shares her inspiring story to remind the audience that a soulful love still exists
Inspired by the author's profound desire to have a love that could be felt within her heart and soul
…'I found love on a two-way street and lost it on a lonely highway.' This made me think of William every time I heard it. He stayed in my heart for quite some time."
— an excerpt from the book
CANTON, MASSACHUSETTS, UNITED STATES OF AMERICA, August 4, 2023/EINPresswire.com/ — In "Finding a Soulful Love," author Lucinda Johnson was inspired by her profound desire to have a love that could be felt within her heart and soul. She embraced the journey and mystery of this often elusive, deepest, and truest love. It is love that fuels the essence of her being and the creation of this novel.
This heart-touching narrative presents the journey taken by Cynthia as she began to search for love. She was raised by her grandmother, whom she thought was her mother until she was thirteen. She reached out to her friends to help her search for love since she never felt it from her new family. She was able to find sisterly love with her best friend, Teresa, and family love with her college friend, Christine.
As she looked for true love, she encountered several failures and several lost loves, but Cynthia never gave up. She lost her first love, Randall, due to her teenage pregnancy. Daniel because of his jealousy and physical abuse. Her relationship with Nathan and Cole didn't last because she couldn't move her sons away from their fathers. Her marriage to Robert ended because of his addiction to alcohol and verbal abuse.
Lucinda Johnson was born in Jacksonville, Florida, and resides in Upper Chichester, Pennsylvania. She has a BS in accounting from Cheyney University and is an executive working in Philadelphia at a multimillion-dollar nonprofit organization devoted to helping people improve their lives. "Finding a Soulful Love" is her first novel.
Author Reputation Press (ARP) is a leading publishing company located in Canton, Massachusetts. ARP is committed to transforming an author's imagination into pages and helping them carve out a name for themselves in the literary world.
Author Reputation Press
+1 888-821-0229
[email protected]
ARP
Visit us on social media:
Facebook
Twitter
Instagram
YouTube
TikTok
Lucinda Johnson was interviewed by Ric Bratton of "This Week in America"


Originally published at https://www.einpresswire.com/article/648307211/experience-a-love-that-stays-in-finding-a-soulful-love-by-lucinda-johnson