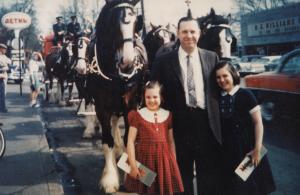 In 1959 The Budweiser Clydesdales paid a visit to Chevy Chase Inn. Pictured is Ed Whitlock (owner at the time) and daughters Cynthia and Judy. Photo provided by the Whitlock Family.
Long time Chevy Chase Inn regular Dickey Cole made a new friend with Buck on July 4th, 1988. Photo provided by Julie Perry.
Chevy Chase Inn famous stained glass window. Photo provided by Chevy Chase Inn
Chevy Chase Inn Isn't Horsing Around with Their 90th Anniversary Kick-Off Party!
LEXINGTON, KY , USA, May 25, 2023/EINPresswire.com/ — Chevy Chase Inn will be celebrating their 90th Anniversary with an event each month for the rest of the year and they're not horsing around with the first one. For most bars across America, having the Budweiser Clydesdales show up at your doorstep would be a once in a lifetime experience. Lexington's oldest bar will soon be able to say it's happened twice. The Budweiser Clydesdales and their rig will be parading up and down Euclid Ave. on May 31st starting at 5pm. This is a family friendly event.
In 1959 The Budweiser Clydesdales came to Lexington to toast Chevy Chase Inn and the former Saratoga Restaurant for the vast amount of Budweisers sold at both establishments. Kevin Heathcoat, co-owner of Chevy Chase Inn, said "I was floored when Budweiser approached me about bringing the Clydesdales to Lexington to help Chevy Chase Inn celebrate our 90th Anniversary. This little neighborhood institution has so many stories to tell. If these walls could talk you might not want to listen, but this will be something we'll talk about for the next 90 years".
Not many drinking establishments can are telling the truth when they say "a horse walked into the bar and…" but Chevy Chase Inn had a regular 4th of July tradition starting in 1988 when Roy Coffey and his friend brought their horses Buck and Beaver into CCI. This little nine seat bar has collected so many stories since it opened soon after Prohibition in 1933 and they can't wait to share them throughout the year.
Cameron Heathcoat, the event organizer, said "Over the years Chevy Chase Inn has seen wars, a man walk on the moon and celebrated seven Kentucky Basketball National Championships. We've had drinks with governors, movie stars, horses and even a bank robber right after he knocked off a neighborhood bank. These are all great stories, but none are more cherished than the ones you'll only hear while sitting on the storied barstools during happy hour at CCI."
Chevy Chase Inn opened after Prohibition in 1933. It is located in at , at 833 Euclid Ave. in the heart of the Chevy Chase neighborhood in Lexington, KY. The owners and patrons alike will very proudly say that not much has changed over the past 90 years and that is part of the charm of this neighborhood institution.
###
Kevin Heathcoat
Chevy Chase Inn
+1 859-797-5087
[email protected]
Visit us on social media:
Facebook
Instagram
Twitter


Originally published at https://www.einpresswire.com/article/635850704/budweiser-clydesdales-coming-to-chevy-chase-inn-again