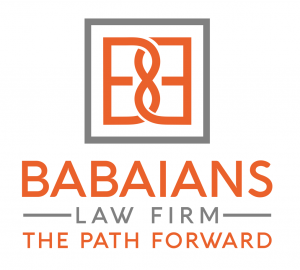 UNITED STATES, September 12, 2023/EINPresswire.com/ — Babaians Law Firm, a women-founded and -operated personal injury law firm established by Bianca Babaians, is proud to announce its commitment to providing unparalleled legal support for victims of negligence or malpractice. Drawing from personal experience, Bianca created Babaians Law Firm to ensure that every individual has access to quality legal representation that prioritizes their well-being and a swift path to justice.
"Our mission is to reshape what a personal injury law firm can be," says Bianca Babaians. "Combining our extensive legal expertise with a truly empathetic approach, we strive to be the trusted partner our clients need during their most challenging moments. We are driven by passion and the stories of those who have been failed by the system, like my mother, fueling us to relentlessly pursue safety, justice, and fair compensation for our clients."
What sets Babaians Law Firm apart is their dedication to providing personalized attention to every case and individual, regardless of the size of their claim. By limiting the number of clients they take on each month, the firm ensures that no stone is left unturned in each case and that the clients' voices are heard, even in the midst of minor injury claims.
With a strong focus on establishing an exceptional medical network, Babaians Law Firm takes the time to carefully vet each doctor they work with, ensuring that their clients receive not only the best legal representation but also the best medical care available.
"I have a personal connection to each case and client," Bianca shares. "Our clients are not just clients; they are in our day-to-day lives, and we make sure they never feel left alone at any point during the process."
As the landscape of personal injury law continues to evolve, Babaians Law Firm remains steadfast in its mission to revolutionize the industry by putting empathy, compassion, and the needs of its clients at the forefront of their practice.
For more information or to schedule a free consultation, please visit (https://bianslaw.com/).

Bianca Babaians
Babaians Law Firm
email us here
Originally published at https://www.einpresswire.com/article/655290143/babaians-law-firm-a-fresh-take-on-personal-injury-representation