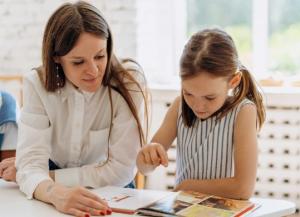 COLUMBUS, OHIO, USA, August 17, 2023/EINPresswire.com/ — The vision of entrepreneurs and parents, Jamie and Talia Rossi, is set to manifest with the grand opening of Applied Scholastics Ohio (APS Ohio) on August 27th, 2023. Offering a fresh take on education, this new learning center is inviting the public for an exclusive open house event from 1 pm to 3 pm at their new facility located at 449 East Mound St, Columbus, OH 43215.
APS Ohio is the first facility of its kind in the state, and it's leading the way for similar subsidiary centers planned across the U.S. Its foundation uses Applied Scholastics Study Technology, a method trusted for over 50 years which specifically targets and addresses the three main challenges people face when studying, providing solutions to overcome them
At APS Ohio, education is not a one-size-fits-all endeavor. The center emphasizes a positive, validating, and self-directed environment. Here, children master fundamental concepts before diving into complex subjects. What truly sets this approach apart is the emphasis on student autonomy: children explore subjects they are genuinely interested in, at a pace that aligns with their unique learning curves. By decoupling from the conventional 'one pace fits all' model predominant in many public schools, APS Ohio aspires to instill a lifelong love for learning, empowering students to pursue knowledge not just during their schooling years but throughout their lives. The learning center will also offer a phonics program to help children learn to read or to correct reading deficiencies, as well as an in-depth tutoring program to help struggling students.
The journey doesn't end in Ohio, in fact this is just the beginning. The Rossis are also spearheading the opening of an Applied Scholastics center in Sacramento, California on August 30th and have plans in place for several more across the U.S., slated for late 2023 and early 2024.
About Applied Scholastics Ohio:

Founded by entrepreneurs Jamie and Talia Rossi, Applied Scholastics Ohio is a revolutionary learning center designed to foster a deep love and application of education. Leveraging the time-tested APS technology, it offers a validating, self-paced learning environment where students are empowered to explore subjects of genuine interest to them.

Jamie Rossi
Applied Scholastics Ohio
+1 614-401-1896
email us here
Originally published at https://www.einpresswire.com/article/650479650/a-new-era-in-education-applied-scholastics-ohio-grand-opening-revolutionizes-education